I would wear gardenias and orchids
in my hair.
I would buy some hot sauce
called "Jump up and kiss me."
I would offer it to strangers.
If I had a name like Rosie Fernandez
I would know how to tango,
I would tap dance on sidewalks.
I would fall in love insistently,
spend hours in cafes
with a broken heart
and good coffee.
Oh, if I had a name like Rosie Fernandez,
I would know it.

From Gumshoe (Black Moss Press).
Used with the author's permission.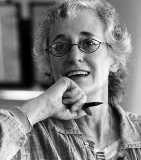 Wendy Morton believes that poetry is the shortest distance between hearts. She has five books of poetry, and a memoir, Six Impossible Things Before Breakfast, in which her adventures as a corporate sponsored poet are revealed. Her latest book of poetry, What Were Their Dreams, is a book of photo-poems of Canada's history. Wendy is the founder of Canada's Random Acts of Poetry project, and is the recipient of the 2010 Spirit Bear Award and the Golden Beret Award. For her day job, Wendy has been an insurance investigator for the last 28 years. She lives in Sooke, B.C. and is a raven watcher. Learn more about Wendy here.
Reganz:
Talking to strangers is Ms. Morton's forte. One of her conversation starters is to open her jacket and ask people to read the poem imprinted on her dress. Yup, it's If I Had a Name... Happy Birthday, Wendy.
Posted 11/30/2010 10:55 AM
ephillips:
Happy Birthday, Wendy! After reading this poem, I feel ready to have a name like Rosie. Insistently joyful and persistently youthful - that's Wendy, too. Enjoy your special day.
Posted 11/24/2010 12:12 PM
lily.diamond@gmail.com:
For anyone who's ever felt the creeping suspicion of a deliciously spice alter ego dancing under their skin. It's perfect.
Posted 11/24/2010 12:00 PM
trailpny:
I think she can wear gardenias and buy hot sauce no matter her name. Wendy Morton is a fine name and she clearly knows how to live joyfully.
Posted 11/24/2010 10:29 AM
queenlolo:
I "discovered" this poem while researching hundreds of poems looking for inspiration for a poetry series on wine labels...I instantly fell in love with Rosie (and Wendy) and this poem was republished on the label of Southbrook's 2006 Poetica Cabernet Merlot. Love it!
Posted 11/24/2010 10:06 AM
Carol Hauer:
I think you could give yourself a wonderful birthday present, Wendy...dance lessons! Make sure they teach you the tango. Happy Birthday! It's never too late to develop a new persona.
Posted 11/24/2010 08:38 AM