at the far recesses
of space and third grade
on earth's shortest day
the astronauts shuffle out
into the moonscape playground
and seem to lift off
as snowflakes fall
rising up to the sky
bouncing weightless
against each other
dodging comets
ducking asteroids
independent of the mother ship
and mission control
in extra vehicular activity
boots kicking moon dust
mittens sifting starlight
astronauts
bundled up and
bound to explore
free floating
unfettered
the universe
untethered
at least until the bell rings
From A Decent Reed (Tamafyhr Mountain Press, 1998).
Used with the author's permission.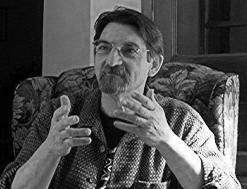 Born in Kansas City, Missouri, Bruce Dethlefsen has worked delivering telegrams, at a flour mill, as a night watchman in a cave, a surgical orderly, a bass player and singer in a rock group, an emergency ward technician, an English teacher, a school administrator, and public library director. His latest book of poems, Breather, was published by Fireweed Press in February 2009. Recently appointed as Wisconsin's Poet Laureate for 2011 and 2012, Bruce lives in Westfield.
Linda Lee (Konichek):
Whenever I see Bruce's name on a poem, I can't wait to experience it! His images are always perfect and take me right where he wants me to be...and beyond. He is a perfect choice for Wisconsin's new Poet Laureate and we are so lucky to have him.
Posted 12/21/2010 11:40 AM
Buckner14:
Congratulations on the laureateship and on this poem, which captures so perfectly children's imaginative play.
Posted 12/21/2010 10:35 AM