The moon, like a round device
On a shadowy shield of war,
Hangs white in a heaven of ice
With a solitary star.
The wind is sunk to a sigh,
And the waters are stern with frost;
And gray, in the eastern sky,
The last snow-cloud is lost.
White fields, that are winter-starved,
Black woods, that are winter-fraught,
Cold, harsh as a face death-carved
With the iron of some black thought.

This poem is in the public domain.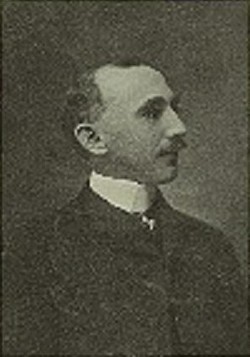 Madison Julius Cawein (1865 - 1914) was a poet from Louisville, Kentucky, who loved to write about nature. Sometimes referred to as "the Keats of Kentucky," Madison published more than thirty books of his own work and translated numerous others written by German poets. While nature was his favorite theme--his wonderfully detailed poems about his native state's flora and fauna have been called a "veritable nature guide to the Kentucky woodlands"--Madison also wrote about a broad range of other subjects, ranging from vampires to fairies. Critically popular, internationally acclaimed, and frequently published in contemporary magazines of his day, Madison was rendered almost destitute by the stock market crash in 1912 and was forced to sell his home and much of his library collection to survive.
Phyllis Beckman:
"the Keats of Kentucky" has us snowed under......the bio of his destitution due to stock market crash of 1912 and subsequent sale of home and much of his library collection may have contributed to this bleak midwinter voice.
Posted 12/28/2010 09:18 AM