Rows of young children
sit on the edge of their seats
mesmerized
seeing music being made
Brianca moves a bow over a pretend violin
Nick's fingers travel an imaginary flute
 
Six year old Alicia
sits cross-legged in her seat
her body leans forward
eyes fixed on the musicians
She waves her arms
like the maestro
 
Back at school
students work on a class book
Alicia draws a picture of herself
baton in hand
        I want to be a conductor she says
        I want to be the one up in front
        telling everyone what to do
     
That evening
the 6:00 news reports budget cuts
for music programs
in city schools

Used with the author's permission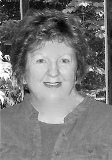 Janet Leahy's poems have appeared in a variety of journals and in the anthology, Empty Shoes, and have won awards in regional contests and at the Milwaukee Art Museum. She is the author of The Storm, a collection of poems about the Iraq War, and some of her poetry is currently on exhibit for the 75th anniversary of The Clearing Folk School in Door County, Wisconsin. Janet lives in New Berlin, Wisconsin, and is a member of the Wisconsin Fellowship of Poets. 
georgec:
Thank you Janet for such a wonderfully written poem! Without the arts in education, children are denied the opportunity of creativity and self-expression.
Posted 01/03/2011 10:13 PM
Maryann Hurtt:
the poetry of music, the music of poetry,don't want to lose either. Thank you for helping me remember, Janet. Maryann
Posted 01/03/2011 06:36 PM
Jo:
Thank you Janet. What a sad situation.
Posted 01/03/2011 05:02 PM
Robin Chapman:
Janet, wonderful to find your poem here--every word supporting the creative spirit finds its home, even if the school board is deaf at first...see the work of Sebastian Ruth in Providence RI at Community Musicworks, http://www.communitymusicworks.org/- cheers, Robin
Posted 01/03/2011 01:48 PM
pwax:
Thank you, Janet!
Posted 01/03/2011 10:53 AM
KHPhillips:
How true! How sad! Janet, your words make us see the faces of the children. The sense of loss is so real. A wonderful, touching poem. Thank you.
Posted 01/03/2011 10:30 AM
jrogerson:
A strong and cogent assessment of the current state of our public schools and others too. When politicians call for a return to the basics--RRR--, their constituents often do not understand that this includes art, music and physical education. Results: obese, unlearned graduates!
Posted 01/03/2011 10:12 AM
karenpaulholmes:
Excellent poem, sad situation. As a band member from grades 4 to 12, and then a music major in college, I know how much music in school can inspire children and open their minds.
Posted 01/03/2011 09:31 AM
dotief@comcast.net:
After teaching for over 35 years, I can assure you that school systems are too short-sighted to realize their mistakes as they make them. A student's learning to sing or play any kind of instrument makes other parts of his or her brain come to life. Music enhances all aspects of learning. Why don't the powers that be know this fact?! They need to read this poem!
Posted 01/03/2011 08:49 AM
Siobhán Barry-Bratcher:
Excellent!! xxx
Posted 01/03/2011 08:32 AM
Buckner14:
Alas, too true! You capture the radiance that art brings to children!
Posted 01/03/2011 08:02 AM
bpdethlefsen:
The arts are basic to the human spirit. Thanks.
Posted 01/03/2011 07:13 AM
gigi:
So true. Can't say it any better than Gary did.
Posted 01/03/2011 06:54 AM
Gary Busha:
Thanks to Janet for this poem and her support for the arts. We need more awareness in schools and public.
Posted 01/03/2011 06:50 AM