For blood grown thin
forty Fahrenheit is Siberia;
breezes suddenly blue
and brittle
shiver through citrus leaves;
a birdsong
bleak and off-key
chills our sense;
sunlight,
pale and tentative,
shelters us from shade
where wisps of vapor
from our mouths recall
northern winter breath
thicker than cigarette smoke,
that reminds us:
Death owns a time share here
and watches,
dressed in warm-ups,
from his lanai.
This poem first appeared in Winter Poems: A Collection of Classic and New Poems for the Season on About.com.†
Used here with the authorís permission.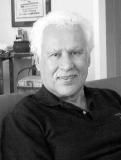 Joseph Pacheco is a retired New York City school superintendent living on Florida's Sanibel Island. A national prize winning poet at age eighteen, he wrote no poetry for the next fifty years, but the joys of retirement life re-awakened his muse. Joseph's poetry has now been featured on National Public Radio's Morning Edition, Latino USA and WGCU, and he has performed at New York City's famous Bowery Poets and Cornelia Street Cafés. Joe is past president of the Southwest Florida Hispanic Chamber of Commerce, a member of WGCU's Public Media Advisory Board, writes a column for the Sanibel Islander, and his poetry has appeared in English and Spanish in the News-Press and its Spanish language weekly, Gaceta Tropical. He is co-founder of ArtPoems and, in 2008, received the Literary Artist of the Year award from Alliance for the Arts. Joseph celebrated his 80th birthday in July of 2010.
Jo:
Joe, I feel it too in Naples and you've said it so cleverly. Love the image of death in his warm ups at the end.
Posted 01/16/2011 12:30 PM
Francesca Joyce:
To read this poem is to experience what a winter's day feels like in SW Florida. Terrific!
Posted 01/15/2011 03:35 PM
Buckner14:
Splendid. My Ohio friends who spend winters in Florida will love this, too
Posted 01/15/2011 12:38 PM
loisflmom:
Oh, Joe, that says it all! Here in Sarasota, I too shiver when it drops below 65. My daughter in NC, like your sister, scoffs!
Posted 01/15/2011 10:49 AM
Carol Hauer:
I like that image too...Death lounging in his warm-ups. I suppose here, Death would be wearing a cheesehead.
Posted 01/15/2011 10:02 AM
susan rooke:
So clever! Love the final images of Death lounging in his warm-ups and just . . . waiting.
Posted 01/15/2011 09:14 AM
karenpaulholmes:
I'm glad Joe's muse has been awakened! Wonderful words in this poem and so true.
Posted 01/15/2011 08:37 AM
dotief@comcast.net:
As a Florida girl myself, I feel this poet's pain! I am also aware of Death's timeshare down here and can't help but wonder.
Posted 01/15/2011 08:16 AM