Every afternoon at two-fifteen they come
in a procession of chairs and walkers
or unaided in a slow and ponderous shuffle
backs hunched against the unkindnesses of time
to assemble in the great room for tea.

They enjoy this ritual
the sturdy cups of Orange Pekoe
cookies and squares that break up a day
words exchanged, although not always heard
by folk whose paths might not have crossed before.

It's a slow dance, lead by invisible partners.

It's the last dance, and they're saving it
for every afternoon at two-fifteen.
This poem received an honourable mention in the 2005 Canadian Poetry Society's 20th Anniversary poetry contest.
Used here with the author's permission.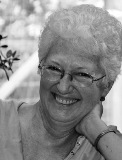 Linda Lee Crosfield lived in Ottawa, Windsor, Montreal, Toronto and Vancouver before returning to the Kootenays where she was born. She is not fond of winter, but lives quite happily nonetheless in Ootischenia (which means "valley of consolation" in Russian) in southeast British Columbia, where she spends her time writing poems and then massaging them to death. Linda Lee once walked into a post at the Toronto airport while reading a book. She shares her life with her husband, Ted, who is a woodturner, and Dudley the cat, who is lovely but loud. Learn more about her by visiting her highly entertaining blog.
Lenora Smalley:
Well, Linda, this is such a terrific poem. I'm sorry I am just getting around to reading it. I'm, trying to acoid that last dance Lenora Smalley
Posted 02/17/2011 07:38 PM
mimi:
i so LOVE this poem!
Posted 01/31/2011 12:58 PM
dianapoet:
Beautiful, moving poem
Posted 01/22/2011 03:41 PM
LindaCrosfield:
Thank you, all of you, so much for all your lovely comments. Much appreciated! Linda
Posted 01/21/2011 11:29 PM
Jo:
I love your kind voice in this poem. I want to remember those ladies, the last dance. Thank you. Jo
Posted 01/21/2011 06:12 PM
Joe Sottile:
The friendships seen and felt at Nursing Homes can warm your heart, just like this poem did. Thank you, Linda.
Posted 01/21/2011 05:56 PM
PoetAnj:
I love it! Very nice.
Posted 01/21/2011 02:19 PM
Buckner14:
I agree entirely with our editor: this is life-affirming, beautiful! Thank you for this lovely vision. I will share it with staff here at the retirement community where I live (presently in independent living, but I'm empathetic with those in assisted living and health care. Thank you for a lovely poem.
Posted 01/21/2011 01:34 PM
wendy morton:
wonderful Linda. Your kind heart in this poem.
Posted 01/21/2011 12:48 PM
Susan Cushman:
I love this. My mother is in a nursing home in Jackson, Mississippi (where it's warm!) and I visit her (from Memphis) twice a month. She has Alzhemer's, but she still enjoys the dance. I blog about her from time to time, as I did last week, here: http://wwwpenandpalette-susancushman.blogspot.com/2011/01/people-in-box.html
Posted 01/21/2011 11:23 AM
trailpny:
"Cookies and squares that break up the day," "It's the last dance..." a lovely sensitive poem. What a delight!
Posted 01/21/2011 10:19 AM
dotief@comcast.net:
Very nice, indeed!
Posted 01/21/2011 10:10 AM
Reganz:
Lovely. Simple. Simply lovely. Thank you for this poem.
Posted 01/21/2011 09:53 AM
nancy_scott:
Beautiful poem. You've captured a whole world in a cup of tea.
Posted 01/21/2011 07:58 AM
Phyllis Beckman:
Holy, Holy, Holy! Amen.
Posted 01/21/2011 06:27 AM
Donal Mahoney:
This is a fine poem that captures a time in life that many of us will visit if we get the opportunity. Appreciating it from youth is difficult. But as one gets closer to it--or shepherds a relative through this age--one comes to understand why the simple pleasures of life grow more important as we age. Very nice poem.
Posted 01/21/2011 06:06 AM