Last night, a halo around the moon.
This morning, white stars on the window,
The boxwood, the sheet
The sun hangs through the trees
To shine, to shine with iridescence.
Itís going to snow you said,
You felt it in your bones, forty-
Year-old bones I have known
For more than half that time.
Did we know, when we married
We would be together this long?
We did not even imagine children,
Prosperity, both of us being alive
After two decades together.
That November night we said I do, was there
A circle around the moon,
A sky filled with stars
We would later view through the telescope
And say to each other "Oh, isnít that beautiful?"
I take your clothes out of the basket
And hang them in your closet.
You gaze out the window, the weather forecaster
Who feels compelled to predict what is coming: rings
Around the moon, rings around our fingers -
Who could know
That day we vowed to love one another
Forever, that we would.
© by Sherry Hughes Beasley.
Used with the authorís permission.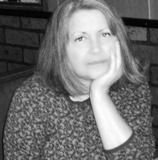 Sherry Beasley's work has appeared in numerous literary journals. She is the recipient of eleven poetry awards, including the Edgar Allen Poe Memorial Award, and is the author of three collections of poetry. A jeweler, perfumer, and soap-maker in her limited spare time, she lives in southwest Virginia in a house she and her husband designed. They have two adult sons and three dogs.

Buckner14:
Yes, yes, yes! I think the longer we fortunate ones who have remained together for decades continue to do so in peace and love, the more we appreciate the gift of companionship. . . .Thank you for this excellent poem, and Jayne, your introduction was perfect.
Posted 02/04/2011 10:00 AM
Joan L. Cannon:
Thank you for recognizing us lucky ones whose vows sustained everything from the stars in our eyes through pain and disappointment and incredible joy to the end.
Posted 02/04/2011 09:35 AM
Phyllis Beckman:
It is 5:00 AM and Sherry Beasley has me wiping my eyes.....and that's a good thing. Thank you Sherry.
Posted 02/04/2011 04:57 AM