Do snow angels shiver
when it's thirty-one below,
or does the windchill matter
when your wings are made of snow?

And do they rise to guard our yard
while frozen night winds blow
their icy halos round and round
at thirty-one below?

From Absolutely Angels: Poems for Children and Other Believers (Boyds Mills Press, 1998)
Used with the author's permission.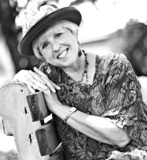 Mary Lou Carney is the author of more than twenty books and the creator of three magazines for young people. A long time editor for Guideposts, Mary Lou's most recent book is The Truly Terribly Horrible Sweater That Grandma Knit, written with good friend and bestselling author Debbie Macomber: Mary Lou lives in Chesterton, Indiana, with her husband Gary. Read her blog here.
Joe Sottile:
Here I sit in my warm home in Rochester (NY), watching the snow stream by with gusts up to 50 mph, thinking about snow angels, thanks to Mary Lou and Jayne. I am always in my comfort zone when I tap into YourDailyPoem.com. Thank you ladies for today.
Posted 02/19/2011 12:49 PM
dotief@comcast.net:
I live in Florida for which I am eternally grateful, but I still remember a few spectacular snow days in Illinois when I was little. When I recall them, I get a bit sad because my children never got to know the joys of winter. Oh, well. I have to prune some palms and finish my mojito.
Posted 02/19/2011 08:31 AM
Phyllis Beckman:
The answers to the questions posed in the poem, are "Yes" and "No" as well as what those of us living in Wisconsin say (in lieu of silence), "Whatever!" Love it!
Posted 02/19/2011 05:51 AM