My calico cat is stretched
on the center rack of the oven,
which I left open after the cheesecake
squeezed through the spring-form pan
and burned itself up.

Purring and warm,
perfumed in vanilla and blackened butter,
like Shadrack, Meshak, and Abednego
she is sure that she can walk into fire
without being burned,
certain that her God lives to serve.

This poem first appeared in Verse Wisconsin.
Used here with the author's permission.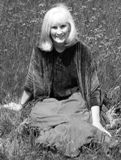 Joan Wiese Johannes believes that Thornton Wilder was right when he had one of his characters say that only poets and saints truly appreciate life while they are living it. Though definitely not a candidate for sainthood, she is grateful for every day of retirement because, after teaching English for 35 years, she now has the time to practice the "art of living well." That includes writing poetry, playing and composing for the Native American flute, traveling, cooking, and sharing life in Port Edward, Wisconsin, with her poet husband Jeffrey. Learn more about Joan here.
Ginny C.:
Wonderful imagery, fine ending...this is a memorable poem.
Posted 02/28/2011 04:06 PM
Linda Lee (Konichek):
Love this image of a cat; they do think the world was created for them, and perhaps they're not wrong!
Posted 02/28/2011 02:41 PM
bfaybooks:
Love your insightful and quirky sense of humor and association!
Posted 02/28/2011 12:10 PM
dotief@comcast.net:
This poem has so many fantastic images--the cheesecake burning itself up, the smells of vanilla and blackened butter, the calico cat stretched on the center rack of the still-warm oven and the faithful Shadrack, Meshak and Abednego. I love them all, and I love how this poem pulls them together.
Posted 02/28/2011 08:21 AM
mimi:
beautiful, Joan! so full of sights, sounds and smells as well as truth about cats!
Posted 02/28/2011 08:15 AM
jeanie:
love this joan! i love cats, and ours go on/in the dryer and on top of the stove...but never IN the oven. but probably because they've never had the opportunity. did you get a pic?
Posted 02/28/2011 07:11 AM
Phyllis Beckman:
I don't even like cats, but I love this poem....and might I add "the broken" to Thornton Wilder's list of those who "truly appreciate life while they are living it?" Just wondering.
Posted 02/28/2011 06:39 AM