It is a season
of divorce.
February ends
abruptly.
Oak trees which have fiercely
held to their leaves
all winter
suddenly
let go.
Our friends
tear apart.

We married so young.
I think of pictures
of Asian princes
betrothed at five,
their enormous eyes
accepting anything.

In the woods
dogs nose among emptied burrows,
bark at the silence.
Don't leave now.
We have almost
survived
our lives.

From The Five Stages of Grief (W.W. Norton & Co., 1978)
Used with the author's permission.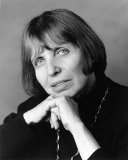 Linda Pastan grew up in New York City, graduated from Radcliffe College, and received an MA from Brandeis University. She has published 12 volumes of poetry, two of which have been finalists for the National Book Award. Linda's poems have appeared in many journals, including The Atlantic Monthly, The New Yorker, The Nation, and The Georgia Review. She has been Poet Laureate of Maryland, and in 2003 won the Ruth Lilly Poetry Prize for lifetime achievement. Linda lives with her husband in Potomac, Maryland; they have three children and seven grandchildren.
MLove:
You've chosen from another of my favorite poets - not my #1 favorite, of course :-). John gave me two of her books when I was still a "young" mother. Her poems are beautiful but melancholy.
Posted 03/04/2011 01:56 PM
Ginny C.:
I want to see more poems of this caliber. It's certainly not "difficult" reading. Speaks right to the point. Brilliantly.
Posted 03/03/2011 05:04 PM
wendy morton:
This spare and brilliant poem. What more can we do but "survive out lives". This is a poem that breaks the heart, then heals it.
Posted 03/03/2011 01:27 PM
vawomann:
Just ordered "5 Stages of Grief" for a friend who lost her 40 yr. old son who had schizophrenia. Thanks Linda.
Posted 03/03/2011 11:46 AM
Joan L. Cannon:
Except for the "married so young" and the fact that the poem is written by a wife (rather than a widow), this is such a gem of emotional and visual accuracy, I know I must read much more by Ms. Pastan! I'd like to add that I agree with Buckner14--your intros are exactly what help without condescending. Thank you.
Posted 03/03/2011 10:32 AM
KevinArnold:
The coolness of the thoughtful language battles the heat of the underlying emotion. "We married so young." Memorable work.
Posted 03/03/2011 09:16 AM
Georgannapoet:
Excellent choice. Just what I needed to day to get me writing. This poem summoned the muse. I love the lines their enormous eyes accepting anything. Thank you.
Posted 03/03/2011 08:21 AM
dotief@comcast.net:
This poem does what the best poems do--it communicates feeling, not just literal concepts. Very powerful! Very good!
Posted 03/03/2011 08:16 AM
Buckner14:
Linda Pastan never fails. She can capture experience or feeling in so few words, and so well. Yes, the last 4 lines are memorable. Your introductions to this and all other selections are well-nigh perfect: give us just enough information to ready us for the poem--just enough, not too much to spoil our pleasure in searching all the poem's pleasures..
Posted 03/03/2011 07:44 AM
anndeupree:
This poem caught my imagination. I love the last four lines. "Don't leave now..." promises a willingness to wait for the new life of spring. Makes me wonder about some of my own impatience to move on.
Posted 03/03/2011 07:06 AM
Donal Mahoney:
Once again, it is so nice to click on YDP at 5:06 a.m. on a Thursday morning and encounter a poem of this quality, the quiet music of it running through my mind after I finish reading it. Many thanks to Linda Pastan and YDP.
Posted 03/03/2011 05:12 AM
Phyllis Beckman:
Approaching the season of promise, imagine that the Asian princes with enormous eyes, or/and their spouses, subservient with downcast eyes, spy a path, filled with possibilities, a chance to thrive rather than settling for survival? I fall in that camp. Bonsai no more. This poem touches me where I live.
Posted 03/03/2011 04:54 AM