She recites Yeats to me, though
there are no wild swans at the pond

where we walk and it is not autumn
but early March, a few red-winged

blackbirds claiming the cattails, sun
shining on a rippling ribbon of water.

Perhaps it was that slice of brimming
blue on the inside edge of melting ice

that called his words to mind, or, that
we were talking about how it must be

for an arctic bird to migrate for months
along the edge of spring. Whatever

it was, I love how words seem to fly
out of a nest in the ribs, change the air

around us—
the way goldfinches rise

brisk and yellow
from a swatch of bright dandelions.
© by Jeanie Tomasko.
Used with the author's permission.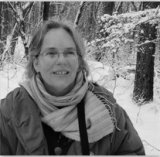 Jeanie Tomasko is a home health nurse in Madison, Wisconsin. She was almost an English major and enjoys a life of regret by writing poetry on the side. She enjoys all things nature, especially birds and long walks. Jeanie's chapbook, Tricks of Light, is forthcoming in 2011 from Parallel Press.

Maryann Hurtt:
I love the dream like feeling in the poem and its grounded reality. Thank you.
Posted 03/06/2011 10:55 AM
dianapoet:
Beautiful images. I like the references to the conversation.
Posted 03/05/2011 08:05 PM
Buckner14:
This is one of the best poems I've read in a long time: lovely uses of alliteration and internal rhyme, strong diction, memorable phrases ("along the edge of spring"--I could go on and on. Marvelous!
Posted 03/05/2011 02:54 PM
Grissom Phigg:
"brisk and yellow from a swatch of bright dandelions." Words that punch up reality, live on long past the flicker of quotidian truth, break up into myriad holographs, starting up again & again not unlike, if you'll excuse the image, the eye of the potato.
Posted 03/05/2011 11:50 AM
wendy morton:
Let our words keep flying out of the nest in the ribs. How else, as poets, can we" change the air around us"?
Posted 03/05/2011 11:11 AM
pwax:
Another beautiful poem, Jeanie! Thanks to you visions of spring are early this year. Phyllis
Posted 03/05/2011 10:30 AM
trailpny:
That's a lovely poem!
Posted 03/05/2011 10:02 AM
martha :
Jeannie, Beautiful poem on this snowy day in almost spring.
Posted 03/05/2011 09:56 AM
Leslie Holt:
What gifts we receive, and how beautiful their timing. Here, after an idle look for an old friend, I find your words and fill my soul. Today I am given the reminder through you that everything is as it should be, and perfectly so. Thank you. "Perhaps it was that slice of brimming/blue on the inside edge of melting ice/that called his words to mind..." speaks to me so perfectly today. Namaste, Leslie
Posted 03/05/2011 09:16 AM
Linda Lee (Konichek):
Images that seize the mind and heart and remain! I'm so glad that so many of my favorite Wisconsin poets are on YDP. The layers in this beautiful poem are intriguing. Thank you, Jeanie, for starting the day with us and reinforcing the expectation of spring, and thanks, Jayne, for your choice and comments.
Posted 03/05/2011 08:18 AM
Jo:
Thinking spring. Thinking wild swans. A beautiful poem, Jeanie.
Posted 03/05/2011 08:05 AM
dotief@comcast.net:
Sorry about the grammatical error in my previous entry. It should read; "...and the scene that unfolds..." I need to proofread before I send things in!
Posted 03/05/2011 07:58 AM
dotief@comcast.net:
I love the actors in this poem--the lazy way they enjoy each other and the scene that unfold around them. Beautiful!
Posted 03/05/2011 07:56 AM
Janet Leahy:
Janet Leahy Lovely to walk this poem with Jeanie as we wait on 'the edge of spring."
Posted 03/05/2011 07:35 AM
LindaCrosfield:
...a nest in the ribs. And yes, yes, they do, yes, change the air. The brisk and yellow birds...your imagery is impeccable. Good one.
Posted 03/05/2011 04:08 AM