Superintindint waz Flannigan;
Boss av the siction wuz Finnigin;
Whiniver the kyars got offen thí track
Aní muddled up things tí thí divil aní back
Finnigin writ it to Flannigan,
Afther the wrick wuz all on agin:
That is, this Finnigin
Repoorted to Flannigan.

Whin Finnigin furst writ to Flannigan,
He writ tin pages--did Finnigin.
Aní he tould jist how the smash occurred;
Full minny a tajus, blunderiní wurrd
Did Finnigin write to Flannigan
Afther the cars had gone on agin.
Thatís thí way Finnigin
Repoorted to Flannigan.

Now Flannigan knowed more than Finnigin--
Heíd more idjucation--had Flannigan;
Aní it wore Ďm clane aní complately out
To tell what Finnigin writ about
In his writiní to Muster Flannigan.
So he writed this here: Masther Finnigin:
Donít do sich a sin agin;
Make Ďem brief, Finnigin!"

Whin Finnigin got this from Flannigan,
He blushed rosy rid--did Finnigin;
Aní he said: "Iíll gamble a whole monthís pa-ay
That itíll be minny aní minny a da-ay
Befoore Supírintindint--thatís Flannigan--
Gits a whack at that very same sin agin.
From Finnigin to Flannigan
Repoorts wonít be so long agin."

Wan da-ay on the siction av Finnigin,
On the road supírintinded be Flannigan,
A rail give way on a bit av a curve
Aní some kyars went off as they made thí shwerrve.
"thereís nobody hurted," sez Finnigin,
"But repoorts must be made to Flannigan,"
Aní he winked at Mike Corrigan,
As married a Finnigin.

He wuz shantyiní thin, wuz Finnigin,
As minny a railroaderís been agin,
Aní his shmoky olí lamp wuz burniní bright
In Finniginís shanty all that night-
Biliní down his repoort was Finnigin
Aní he writed this here: "Muster Flannigan:
Off agin, on agin,
Gone agin. --Finnigin."
This poem is in the public domain.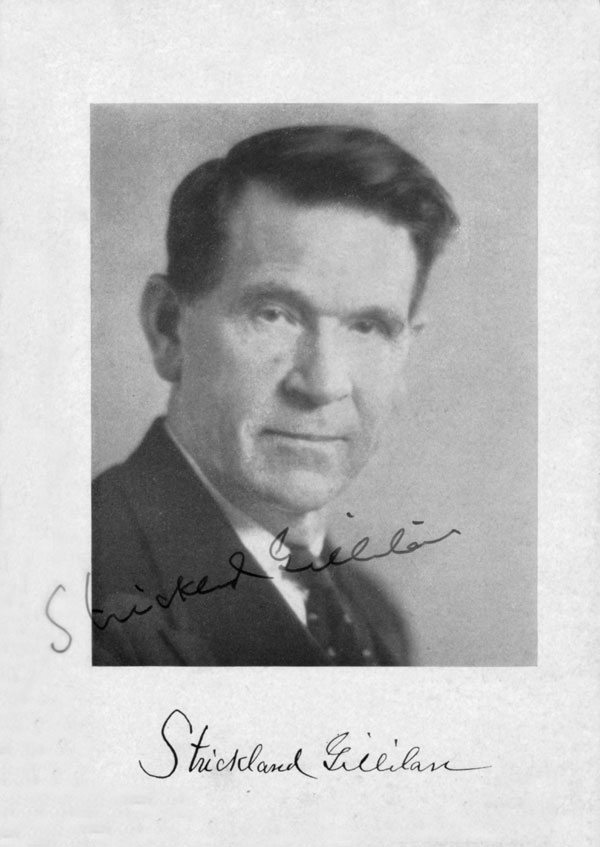 Strickland Gillilan (1869-1954) was an American humorist, lecturer, and poet. Born in Ohio, Strickland started out as a journalist and worked for several different newspapers, including the Washington Post. While on staff at the Richmond Daily Palladium, he wrote a humorous poem about an Irish railroader that ended up in Life Magazine and led to swift national acclaim. Credited with writing the world's shortest poem--"Lines on the Antiquity of Microbes"(subtitled "Fleas"): "Adam/Had 'em."--as well as one of the world?s most anthologized poems (this one), Strickland produced a huge body of work during his lifetime. He traveled the country for years, entertaining enthralled audiences with his witty novels, satirical essays, rollicking songs, and heartwarming poetry.
pwax:
What fun, Jayne!
Posted 03/17/2011 10:38 AM
dotief@comcast.net:
Well, Erin go bragh! 'Tis a sweet bit of words you 'ave here.
Posted 03/17/2011 08:34 AM