Just now, I thought of you –
the kettle whistling on the stove,

two bags of Earl Grey already deep
in your cup, and you somewhere 

in the house, fluffing a pillow, 
patting the white spot on the dog's head.

You'll open the windows,
saturate the house with spring's

first perfume – a musk of earth and rain –
the kettle whining louder and louder.
© by S. Thomas Summers.
Used with the author's permission.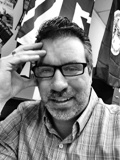 S. Thomas Summers is a professor/teacher of literature, writing, and philosophy at Wayne Hills High School and Passaic County Community College, both in Northern New Jersey. Much of Summers' poetry finds its foundation in the hills and forests that surround his home. Via his poetry, Summers hope to capture what is easy to see, but often difficult to notice. He is the author of two Pushcart nominated books, Private Hercules McGraw and The Journals of Lt. Kendall Everly, both stories of the American Civil War. He blogs at www.inkhammer.wordpress.com.
Julianne Carlile:
Beautiful!
Posted 03/25/2011 06:53 PM
jeanie:
sweeeeet!!
Posted 03/23/2011 02:33 PM
LindaCrosfield:
Perfect analogy for how they happen, this mysterious thing we call poems.
Posted 03/23/2011 11:32 AM
wendy morton:
The images in the poem are exquisite, simple; a celebration of the ordinary.
Posted 03/23/2011 10:18 AM
dotief@comcast.net:
Beautiful! Makes me want to throw open all the windows myself!
Posted 03/23/2011 07:56 AM