One of life's little tricks guided me up my basement stairs,
my hands loaded with three bottles of wine from the cellar
for thirsty guests at a dinner party. As it turned out, the trick
was a clumsy stumble, my right shoe jamming into something on
the steps, sending me sprawling forward helplessly, hands full,
unable to brake my lunge toward the top few steps, alas, making
my right knee slam into the ledge of one of them. Ergo pain,
humiliation, a lingering assessment of life, human
vulnerability, Fate's wishes, and, oh yes, Heaven.

If there is a Heaven and I should be so fortunate to reach it someday --
perhaps after a more serious tumble -- what would it be like? Would I
gain entry on probation for three to six months, or would I be a model
angel in the place, much to the envy of others there? The place being Heaven,
would I take on a persona other than a knotty-kneed, increasingly
accident-prone shuffler, or would I assume a Nureyevian gracefulness
that would readily distinguish me from other less agile angels?

What's more, it's probably a safe assumption that, in Heaven, there are no
basement stairs to scale, fewer, if any, traps for innocent souls like me to
be snared by, houses of clouds ever so soft to the touch that bruises are
downright impossible, where top-notch pinot noir is just a wink away.

This poem first appeared in Free Verse.
Used here with the author's permission.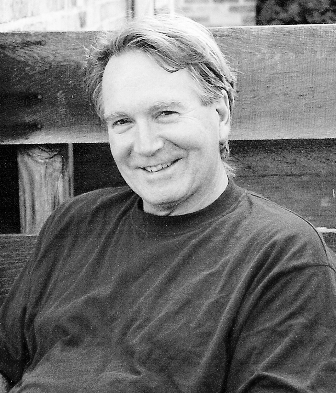 Stephen L. Anderson is a Milwaukee-based poet whose work has appeared in various print and online journals. His poetry touches on both regional and global themes, the latter due to the fact that he spent two years in the Peace Corps in Chile, lived and worked in London, England for a year, and is married to a woman from Trinidad & Tobago, long considered his second home. His muse has relentlessly pursued him since at least 2000, so far in a vain attempt to wrench him away from his work as a psychotherapist in private practice. His chapbook, The Silent Tango of Dreams, was published in 2006.
Joe Sottile:
Interesting thoughts about the Hereafter.
Posted 03/26/2011 02:28 PM
Linda Lee (Konichek):
Ah, what a neat poem; I love the way poet's minds go when they take this type of incident and turn it into a connection of fun for all of us. Thanks,Stephen.
Posted 03/26/2011 01:29 PM
comer4:
I like the idea of "falling up," and otherwise I love this poem very much! The flow of words is as smooth and engaging as a fine wine ... Suzanne in NC
Posted 03/26/2011 09:17 AM
dotief@comcast.net:
I too am smiling! I like the part about bruises being "downright impossible." That would be a great place. And then there is the wine.
Posted 03/26/2011 08:30 AM
Patricia Esposito:
Ah, yes, we could all use that place. Thanks, this made me smile first thing in the morning.
Posted 03/26/2011 08:02 AM