If your purse no longer bulges
and you've lost your golden treasure,
If at times you think you're lonely
and have hungry grown for pleasure,
Don't sit by your hearth and grumble,
don't let mind and spirit harden.
If it's thrills of joy you wish for
get to work and plant a garden!
If it's drama that you sigh for,
plant a garden and you'll get it
You will know the thrill of battle
fighting foes that will beset it
If you long for entertainment and
for pageantry most glowing,
Plant a garden and this summer spend
your time with green things growing.
If it's comradeship you sight for,
learn the fellowship of daisies.
You will come to know your neighbor
by the blossoms that he raises;
If you'd get away from boredom
and find new delights to look for,
Learn the joy of budding pansies
which you've kept a special nook for.
If you ever think of dying
and you fear to wake tomorrow
Plant a garden! It will cure you
of your melancholy sorrow
Once you've learned to know peonies,
petunias, and roses,
You will find every morning
some new happiness discloses.

This poem is in the public domain.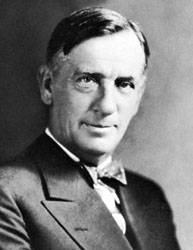 Edgar Guest (1881 - 1959) was born in England, but moved with his family to Detroit, Michigan, when he was ten years old. He worked for more than sixty years at the Detroit Free Press, publishing his first poem at the age of seventeen, then going on to become a reporter and columnist whose work was featured in hundreds of newspapers around the country. Edgar is said to have written some 11,000 poems during his lifetime, most of it sentimental, short, upbeat verse. Critics often derided his work, but America adored him. He was known as the "People's Poet," served as Michigan's poet laureate, hosted a long-running radio show and TV show, and published more than twenty books.
Glenda Beall:
My brother, Max, said when he began laying off rows for his garden this spring he remembered a poem about a garden and I think it might have been this one. At 83, he can recite every word of all the poems he learned when he was young. I love this poem.
Posted 04/05/2011 12:51 AM
loisflmom:
If my father had been a poet, he might have written something akin to this. He started planning each year's garden when there was snow on the ground, and tended it lovingly the other three seasons. Thanks
Posted 04/04/2011 02:17 PM
KevinArnold:
There's something most American in Guest's straightforward lack of artifice, msking rhymes work that might make others blanche.
Posted 04/04/2011 08:43 AM
Owl:
Thanks. I can hear my grandfather's voice reciting this poem. He had beautiful gardens.
Posted 04/04/2011 08:28 AM