so what if her waist-to-hip ratio is not the right number?
her inner balance outweighs her outer asymmetry
her heart is iron strong
and she is filled with passionate fire
her mass attracts me, gives me weight
her geography is majestic
and no map can capture all she really is
Ouranos is husband to Gaia, Mother Earth, in Greek mythology.

This poem first appeared in Verse Wisconsin (Summer 2010).
Used here with the author's permission.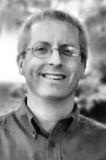 Erik Richardson is a freelance writer and school teacher (math and computers) working out of Milwaukee, where he juggles a small family, a medium herd of pets, and—when his schedule allows—a children's poetry journal. After years of martial arts training, Erik's greatest skill is getting injured and still being able to laugh about it, which he feels is oddly fitting for a poet.
dianapoet:
Wonderful!
Posted 04/26/2011 10:09 AM
KevinArnold:
A political poem, as well.
Posted 04/22/2011 12:20 PM
Linda Lee (Konichek):
All of us voluptuous women salute this poet and his poem. Thank you, Erik!
Posted 04/22/2011 12:03 PM
dotief@comcast.net:
Very nice. I thought someone was talking to me. Oh, well.
Posted 04/22/2011 09:11 AM
Gail Goepfert:
So so clever!
Posted 04/22/2011 08:22 AM