she threatened to sell us to the hot dog man
I had my chance mom whispered
the hot dog man takes anything
he'd cart you off no questions asked

in summer my mother
having had it up to here
again with us three boys
would run away from home

we wouldn't notice for an hour or so
until we got hungry or thought oh no
this time she might be gone for good

she'd walk around the block a time or two
we saw her sitting on the corner curb
her legs stretched out across the sewer grate
holding her face in both her hands to cry

it was embarrassing
to have the neighbors see her sadding there

I was the one elected to collect her
say we're sorry ask forgiveness
tell her whatever it took
whatever we did we wouldn't do again
promise

I'd take her hand and bring her home
one of us would hug her
one would clean his room
I'd do the dishes

for the rest of the day
we put away our wooden swords
our wounding words
we gave her peace
we gave her quiet
and when tomorrow came
and we resumed the awful evil that boys do
I'd look around from time to time
to make sure she remained

we boys are grown
our mother's gone for good
yet no one knows what really goes
inside those hot dogs

so I look out for the man
who asks no questions
I listen for that jangle of his cart
From Breather (Fireweed Press, 2009).
Used here with the author's permission.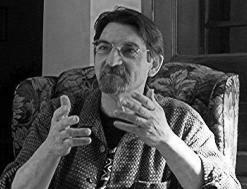 Born in Kansas City, Missouri, Bruce Dethlefsen has worked delivering telegrams, at a flour mill, as a night watchman in a cave, a surgical orderly, a bass player and singer in a rock group, an emergency ward technician, an English teacher, a school administrator, and public library director. His latest book of poems, Breather, was published by Fireweed Press in February 2009. Recently appointed as Wisconsin's Poet Laureate for 2011 and 2012, Bruce lives in Westfield.
LindaCrosfield:
"see her sadding there"... just about perfect. You completely captured what it's like to be a frazzled mom. Good poem.
Posted 05/06/2011 10:46 AM
pwax:
Well done, Bruce! What a good poem!
Posted 05/06/2011 10:40 AM
trailpny:
Any boys who would clean their rooms and do the dishes and hold her had walking home, even for a day, would steal a mother's heart.
Posted 05/06/2011 10:37 AM
dotief@comcast.net:
I love this poem. Her "sadding there" and "our mother's gone for good" are such poignant ideas. Very touching.
Posted 05/06/2011 09:18 AM
mimi:
one of my favorites of many favorites of your poems, Bruce!
Posted 05/06/2011 09:13 AM
Ben Bulben:
Excellent evocative poem--and the sad truth is, we all end up going to the "hot dog man" one way or another!
Posted 05/06/2011 09:09 AM
Ralph Murre:
One of your finest, Bruce, and that's sayin' sumthin'!
Posted 05/06/2011 08:40 AM
KevinArnold:
Ah, yes, the ubiquitous neighbors: it was embarrassing /to have the neighbors see her sadding there Wonderful poem.
Posted 05/06/2011 08:00 AM
jeanie:
love this poem, bruce. everytime. my fav line is "one would clean his room"
Posted 05/06/2011 06:37 AM
gigi:
Bruce's mother had the hot dog man; mine had the gypsies who lived downtown in vacant stores.
Posted 05/06/2011 05:47 AM