I was born on a mountain side
Where the setting sun hurls its final radiance
And grass glows in golden fire
The valley dark, long gloomed in shade.
I was born on a mountainside.
The day's first rays of sunrise
Steal severely through a crevice in my wall.
Slim shimmery spears, they pierce into my eyes!
I was born on a mountainside.
At dawn I in the valley behold
A solid mass of white morning mist
Like cotton strewn all over, covering end to end

Which soon boils slowly like a magic broth
In curly wisps dispersing into the air
Till all is clear and the sky is bright
And the great sun smiles its laughter to the world.


© by Hillary Kuteisa.
Used with the author's permission.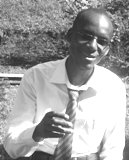 Hillary Kuteisa (1989 - 2011) was an industrial chemistry major at Makerere University in Kampala, Uganda. Born in a hilly district of Uganda called Kabale, Hillary said that his parents' diverse collection of books meant that, by the time he could read, "there was always something for me to delve into." A great fan of nature who loved beautiful sunsets and colorful rainbows, Hillary enjoyed writing both poetry and short prose.
mimi:
lovely, Hillary, thank you for sharing your beautiful Africa with us...
Posted 05/30/2011 10:48 AM
dotief@comcast.net:
Wonderful!
Posted 05/29/2011 01:32 PM
Buckner14:
I'm not sure I've ever seen stronger images. Thank you for sharing your sharp perceptions with us..
Posted 05/29/2011 10:26 AM
vawomann:
Beautiful poem. I could see it all in its beauty and majesty. What a priviledge to be born on a mountainside and enjoy God's handiwork each day.
Posted 05/29/2011 10:24 AM
KevinArnold:
Yes: "boils slowly like a magic broth In curly wisps dispersing into the air Till all is clear and the sky is bright " Very nice.
Posted 05/29/2011 09:04 AM
Janet Leahy:
the morning mist boiling like a magic broth— lovely
Posted 05/29/2011 08:53 AM