I remember the dock warped, weathered, worn
smooth from years of sun and water. Plunked
face down I peer between the gray slats

watch the perch slide by ignoring
my baited hook. My young eyes fix
on a shard of sunlight and color

that gradually resolves into a 2-foot pike.
Floating in place, its body ripples front
to back, front to back looking ready to lunge

for the perch. But with a quick muscular
flick it disappears, leaving eddies
of whirling sand. I shiver. I was struck

when I read of a father who recently found his son
in their cabin boathouse surrounded by rods, reels,
fishing tackle—playing an electronic fishing game.

This poem first appeared in the online edition of Verse Wisconsin (Issue 102).
Used here with the author's permission.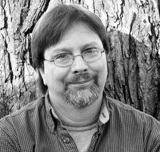 Steve Tomasko doesn't fish as much, walk in the woods enough, or write as often as he should. When not at his day job, he does a little freelance nature observing and occasionally turns that into words. Once in a while people even pay him for it. He and his poet wife, Jeanie, whose poetry also graces these pages, live in Wisconsin.
 
Joe Sottile:
I love this poem, especially the ending! I have five grandkids addicted to wireless electronic devices. They live in a virtual world!
Posted 06/17/2011 06:42 PM
pwax:
Wonderful images. You really make us see it all. I loved the musicality (especially in stanza one) of your language and the resonance of that word "plunked" coming so close to the warped weathered worn slats of the dock.
Posted 06/17/2011 05:48 PM
Ralph Murre:
Of course, that was supposed to say "NOT staring into the electronic poetry game". ~R.
Posted 06/17/2011 04:01 PM
Ralph Murre:
Nice work, Steve. Good to know that you're out in it at the moment, and staring into the electronic poetry game, as I am. ~ R.
Posted 06/17/2011 03:58 PM
KathyD:
Wonderful poem Steve. I remember such things too from a childhood in Michigan. Don't fish at all these days, but glad I did once upon a time. And the only electronic game I play is Spider Solitaire.
Posted 06/17/2011 02:28 PM
mimi:
great poem, Steve, hope you're enjoying more moments like these this weekend! Sharon Auberle
Posted 06/17/2011 10:33 AM
LRL:
the ending came as a total surprise: nice
Posted 06/17/2011 07:06 AM
Gary Busha:
Anyone who has fished between dock slats can relate to this fine imagery.
Posted 06/17/2011 06:15 AM