My child arrived just the other day,
He came to the world in the usual way
But there were planes to catch, and bills to pay . . .

Thank you to the Harry Chapin Foundation for permission to share these song lyrics
for a specified period of 3 months. In accordance with that permission agreement,
the remainder of the lyrics have been removed.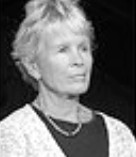 Photo by Robert Berkowitz
Sandy Gaston Chapin was a teacher and mother of three when she started taking guitar lessons from singer/songwriter/filmmaker Harry Chapin. They married two years later and Sandy began writing poetry and songs late at night, after her children were in bed. One of those poems, inspired in part by a country song and in part by the disconnected relationship between her first husband and his son, became the basis of Harry's song, "Cat?s in the Cradle." When Sandy first shared the poem with Harry, "he sort of brushed it aside," she says. But after their son Josh was born, Harry saw the poem through new eyes, and was compelled to write music and a chorus for the verses Sandy had written. When Harry told her his producer wanted to include the song on his next album, Sandy called the idea "ridiculous," saying, "That song will only appeal to 45-year-old men, and they don?t buy records." "Cat?s in the Cradle" went on to become a #1 hit, earning a Grammy nomination for Best Song, selling millions of copies, and being featured over and over again in settings ranging from church sermons to feature films. Harry?s brother Tom has said the lyrics ". . . put more fathers ill at ease than any other song in history," and Sandy herself admits that it has proven to be a "real teaching opportunity." 
As the mother of five and grandmother of six, Sandy confesses that she writes "almost not at all" these days. She continues to live in New York and devotes most of her time to family matters and running Long Island Cares, a food bank and hunger assistance organization, and the Harry Chapin Foundation, the goal of which is to help make a positive difference in communities around the country.
Coffee Lover:
Harry Chapin's music, is how feelings sound. The world lost a great musician in 1981. Luckily we can still listen to him. Thank you Sandy, for loving him so much, that the words just flowed.
Posted 03/01/2016 04:48 PM
rankensel:
I don't think I'm alone but every song Harry Chapin did had an impact on my life. And while it hasn't been perfect he sure made it richer and more meaningful. I can't imagine how much richer and better the world would be if he was still working, and Sandy, if you see this, please take up the pen again, we need more of what you have done.
Posted 11/30/2012 03:19 PM
annaintheoutback:
'Cat's in the cradle' is about me and my daughter. It was a hit in 1992 in Australia, my daughter was nine then. We listened to it as I drove her to school in Sydney in the mornings. The song, the words, always stir the deepest emotions in me. Thank you for the poem, it's the most beautiful poem in the world.
Posted 10/27/2012 07:40 AM
partree:
I first saw Harry in his off broadway play "The night that made America Famous" which was also a cut on his Verities and Balderdash album. I will never forget sitting first row center with my then girlfriend as he opened up act 2 with the song Taxi and when he came to the line "And she handed me 20 dollars for a 2.50 fair" My girlfriend who was holding costume jewelry in the shape of a crescent moon and shooting star that she wanted to give him (it was the artwork on said album)she froze and I remember grabbing it from her and standing up and handing it to him and he put it in his shirt pocket as he finished with "Harry keep the change". A dozen or so years later I saw him again at the "Bottom Line "in NYC and after the show as we prepared to by some things I asked him if he remembered me and he gave me a look and then I described that night at the show and he told me he still had the two pieces I had given him. He was on his "Sequel" tour and of course 6 months later he was gone and I was devastated!I'm 56 yrs old and my children know and love his music and now I have a granddaughter who will be introduced to it as well! Harry was the Master Story Teller and his music transcends time and is applicable as much today as it was then and I hope it last forever...Peter P.S Harry I really miss you, peace
Posted 08/13/2012 06:24 PM
transitions:
I loved Harry Chapin. Saw him every time he 'came to town'. Such a great, great loss... who knows what he would have unltimately "done"...I will never forget him, his insightful lyrics, wonderful music. Bless you, Sandy. Judy
Posted 06/20/2011 06:01 PM
Gail Goepfert:
Even now, so sad! I remember all the words! Thanks for the story behind the song!
Posted 06/20/2011 09:47 AM
LindaCrosfield:
On a road trip at the moment. Northwest Territories. Satellite radio's played this a few times, and the words still get to me. Good hearing how it came to be.
Posted 06/19/2011 10:34 PM
tannerlynne:
this song has always made me weep... Thank you for finding it for us again.LST
Posted 06/19/2011 09:52 PM
Joe Sottile:
Ditto!
Posted 06/19/2011 09:38 PM
KevinArnold:
Sandy seems rock solid, and of course the chorus soars. Harry's death was way too early. An absolutely perfect choice for Father's Day.
Posted 06/19/2011 10:17 AM
dotief@comcast.net:
I love this song, and I love the back story to it. Who knew? Thanks for getting the straight scoop, Joyce.
Posted 06/19/2011 09:19 AM