So many years spent regretting them:
Too broad and flabby, too wide
For jeans, precursors to thighs
I could never love, foundation
For my pear-shaped form. 

Now Ron wants them engaged:
They are the center
Of attention. Without their power
My punches go nowhere.
"Work your booty," 
He admonishes and for once
I think they might be worth
Their weight in gold.
"Engage the hips," he shouts.
Because I can go nowhere
Without them, I listen.
From Saturday at the Gym.
Used with the author's permission.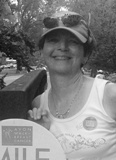 Janice Lynch Schuster lives near Annapolis, Maryland, where she works as a writer for Altarum Institute. Author of one chapbook, Saturday at the Gym (Three Acre Wood, 2011), and one non-fiction work, Handbook for Mortals: Guidance for People Facing Serious Illness (Oxford University Press, 2011), her poetry has appeared in Poet Lore and The Broadkill Review and been featured on Poetry Friday blogs. Janice, a mother of six, says that she finds "working out, mastering the body, inspires me to create poetry--mastering the language and the mind. I haven't mastered either yet," she admits, "but I keep trying."
Eiken:
Loved this Janice, wonderful poem.
Posted 06/28/2011 05:56 PM
mukwonagosusan:
Please keep writing, connecting poetry to the body. Wonderful!
Posted 06/28/2011 09:52 AM
KevinArnold:
Of course Ron shouts, so the poet needn't. Fine work.
Posted 06/27/2011 08:47 AM
KathyD:
Absolutely wonderful!!
Posted 06/27/2011 06:30 AM