In the indigo cloth of night, small lanterns
blink heated signals for possible mates.
Tumbling from the green-stained shade
of willows, sparks stitch the air
in zigzag extravagance.

Stars burn above with nuclear fire, pulse
across unfathomable miles to touch us
with another silent presence. Reflections
shine from our eyes, shower the lake in gold.

In our netted tent, we lie under the bright canopy
of constellations, and though we can't find
the Big Dipper in our southern view, the red eye
of Antarus beams and The Swan flies, wings
outstretched, long neck like an arrow.

Content, we close our eyes and listen
to the unseen sounds—skitter
of small creatures, soughing pines,
shushhh of katydids. A wolf's wail
echoes from the hills.

I reach over for your outstretched hand, notice
your hair—silvered, as if the moon had run
her fingers through it. The fireflies bed down.
We, too, zip up our tent as the soft fall of rain
recites evening's last poem.


© by Mary Jo Balistreri.
Used with the author's permission.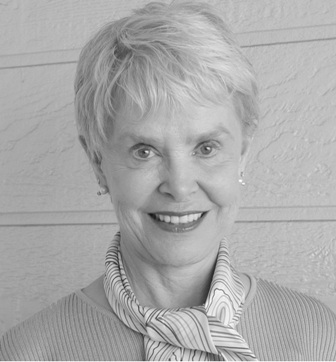 Mary Jo Balistreri spent most of her life in music, performing as a concert pianist and harpsichordist, and teaching for sixteen years. After the death of her first grandson to mitochondrial disease (the second one died two years later), she turned to the music of words as a way to give witness to his life as well as to transcend grief and turn it into something positive. Now retired from her musical pursuits, Mary Jo spends as many hours writing as she once did practicing. Her uplifting, joyous poetry has been published in numerous journals and she was nominated for a Pushcart Prize in 2006. For Mary Jo, poetry has become both a passion and a way of life, and writing is now a spiritual path. Learn more about Mary Jo at www.maryjobalistreripoet.com.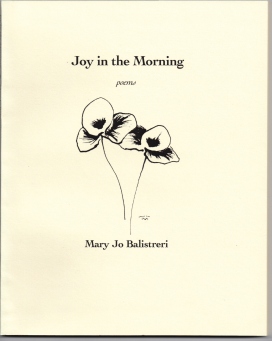 Patt Clark:
The word pictures you paint could be scattered across a canvas; the story you tell is the essence of living. For some strange reason I am reminded of Dickinson's "I cannot dance upon my toes.." I think it's because when I read your words I see a ballet.
Posted 07/14/2011 06:56 PM
luminousfields:
I love how your poem closes in tender musings. Thanks for posting this. Blessings, TaoliAmbika
Posted 07/11/2011 06:27 PM
ALittleHawk:
Great imagery. You have woven a beautiful tapestry of words with silken thread and pen.
Posted 07/11/2011 04:20 PM
transitions:
Beautiful images brought to earth, an inspired gift for all of us; this is 'poetry' at it's finest. Thanks, Jo, I loved it. Judy
Posted 07/11/2011 12:30 PM
Janet Leahy:
Every line a lovely image to hold on to "sparks stitch the air" beautiful! thanks
Posted 07/11/2011 12:09 PM
maryfern@mywdo.com:
I have been watching the fireflies for the past week, heated signals all through our prairie grass. thanks, Jo, lovely.
Posted 07/11/2011 08:18 AM
Gail Goepfert:
So many lovely images, it's hard to choose, and then when we finally are there for the reciting of evening's last poem after the fireflies bed down. Peace!
Posted 07/11/2011 08:13 AM
Carol Hauer:
I, too, love the image of the moon running her fingers through his hair. Just lovely. Beautiful poem. You captured the essence of this summer night.
Posted 07/11/2011 07:55 AM
Anjie:
I LOVE this poem. One of my favorite images in here is the Swan image, "The Swan flies, wings outstretched, wings like an arrow. . ." Beautiful, just beautiful! <3
Posted 07/11/2011 06:44 AM
Kay Sanders:
I love the "silent presence" of the stars and the "unseen sounds" of small creatures, pines, and katydids. Lovely, Mary Jo. Kay
Posted 07/11/2011 06:17 AM
r1manchester:
"your hair -silvered, as if", etc. great line!
Posted 07/11/2011 04:58 AM