Will there really be a "Morning"?
Is there such a thing as "Day"?
Could I see it from the mountains
If I were as tall as they?

Has it feet like Water lilies?
Has it feathers like a Bird?
Is it brought from famous countries
Of which I have never heard?

Oh some Scholar! Oh some Sailor!
Oh some Wise Men from the skies!
Please to tell a little Pilgrim
Where the place called "Morning" lies!


This poem is in the public domain.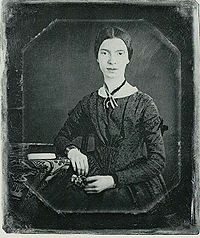 Emily Dickinson (1830 – 1886) is considered a major American poet, though she was not accorded this honor until well after her death, when her younger sister discovered and began to share the enormous body of work that Emily left behind. A recluse who almost always wore white, Emily was born to a prominent Massachusetts family and spent the bulk of her life inside her home in Amherst. Only seven of her poems were published during her lifetime, and virtually none were published as originally written until the mid 1950s. (Emily's odd punctuation, capitalization, and formatting did not meet with standard publishing "approval" for earlier editions.) There is a whimsical nature to many of her poems, although the subject of death was the most frequent recurring theme.
Chris Peacock:
Wow 2011 I'm from 2020 u guys are from the past LOLOLOL so many memes to come. You guys are in for a treat. Good luck. Look out for WW3 Global warming and coronavirus. It sucks.
Posted 05/27/2020 08:58 AM
KevinArnold:
Yes, I will say, with great fondness, that you can read it over the music of the first first verse of The Yellow Rose of Texas without a hitch, all three stanzas. Wonderful Emily never misses an iamb.
Posted 07/14/2011 11:44 AM
comer4:
I have seen that sun come up, I have seen those feathers, I have seen the slender roots, I have seen those petals. This morning's clouds are in the trees, they drip with last night's rain, but in my heart an eye foretells, the sun has risen again.
Posted 07/14/2011 08:20 AM