A Dragon-Fly with beauteous wing
Is hov'ring o'er a silv'ry spring;
I watch its motions with delight,
Now dark its colours seem, now bright;
Chameleon-like appear, now blue,
Now red, and now of greenish hue.
Would it would come still nearer me,
That I its tints might better see

It hovers, flutters, resting ne'er!

But hush! it settles on the mead.
I have it safe now, I declare!

And when its form I closely view,

'Tis of a sad and dingy blue
Such, Joy-Dissector, is thy case indeed.

This poem is in the public domain.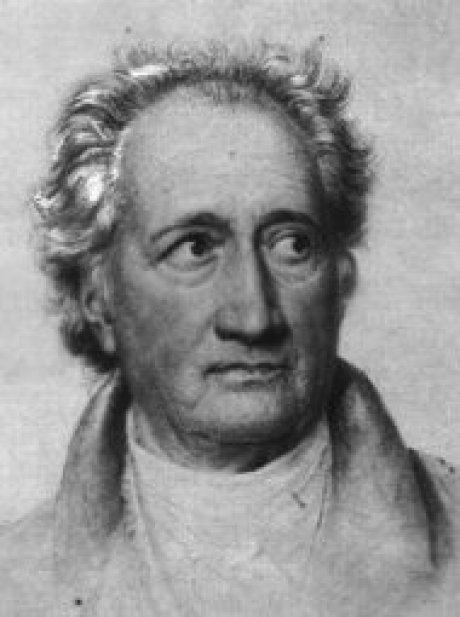 Johann Wolfgang von Goethe (1749 – 1832) was a German poet, playwright, novelist, artist, lawyer, philosopher, and scientist whose ideas and accomplishments have been a major source of influence and inspiration for generations. Johann's first love was drawing and his second love was literature, but his talents extended to scientific, mathmatical, and philosophical realms as well. His novel, The Sorrows of Young Werther, is considered the world's first "bestseller," though his subsequent work, Faust, is the better known today.
luminousfields:
Charming poem! Especially since I love dragonflies... and I open an email and voila! here is one about a dragonfly but with "dingy blue" wings. Mine are luminescent blue! ... ~ LuminousFields
Posted 07/18/2011 09:25 AM
KevinArnold:
Thank you Jayne, for introducing me to Goethe's poetry. The language play comes acrosss even in translation, making me want to study German. Here's a quote from his Wiki bio that poets might enjoy: "Goethe studied law in Leipzig from 1765 to 1768. He detested learning age-old judicial rules by heart, preferring instead to attend the poetry lessons of Christian FĂĽrchtegott Gellert."
Posted 07/18/2011 08:52 AM