Row gently here,
My gondolier,
So softly wake the tide,
That not an ear,
On earth, may hear,
But hers to whom we glide.
Had Heaven but tongues to speak, as well
As starry eyes to see,
Oh, think what tales 'twould have to tell
Of wandering youths like me!

Now rest thee here.
My gondolier;
Hush, hush, for up I go,
To climb yon light
Balcony's height,
While thou keep'st watch below.
Ah! did we take for Heaven above
But half such pains as we
Take, day and night, for woman's love,
What Angels we should be.

This poem is in the public domain.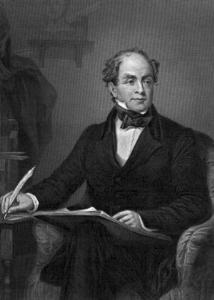 Thomas Moore (1779 - 1852) was an Irish poet, composer, and songwriter who enjoyed both fame and financial success from his writing throughout his lifetime. Though Irish by birth, Thomas lived most of his life in London; nonetheless, he is considered Ireland's national poet. Fond of a good time, Thomas avoided prison at one point by moving to Bermuda until his debts in London could be paid. He was a close friend of Lord Byron, internationally known for his songs and poems and, at one point, Edgar Allan Poe pronounced Thomas "the most popular poet now living".
KevinArnold:
That last quatrain surprises.
Posted 07/21/2011 11:32 AM