Don't water them
when the sun is shining
the woman who sold them
said—they don't like it.
And so it is I learned a garden rests
but does not sleep:
the Munstead clan, and Honorine Jobert,
Zephirine, Caroline de Testout and company
lie about, scent- 
splashed in the moonlight
that has no heat; finally
they are alone
rid of bees and lovemaking
perhaps thirsty—

Perhaps
lavender swoons
along the hard stems, each flower shivering
when a bee enters, 
tiring.

Perhaps
a tree eyes the rose climbing, twining, 
shining amongst its leaves,
holding still,
so long;
perhaps the breeze is beckoned to
anthropomorphically.

Though we keep trying,
who
of us
has the words
for a nighttime garden?

Besides rest winding down
an August evening,
what other way 
for redistribution of wealth
but undercover 
vegetative
silence?


© 2010 by Grace Hughes Chappell.
Used with the author's permission.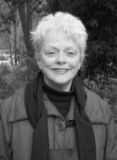 Grace Hughes Chappell lives and works in San Francisco and in Mendocino County. In the foggy summer months, she and her husband also tend a garden and apple orchard in Laytonville. The other months, she sings in the San Francisco City Chorus. She's had writing published in This Week (Sunday SF Chronicle), the Anderson Valley Advertiser, the Richmond ReView, Short Fiction by Women, and various others. Learn more about her at http://gracehugheschappell.blogspot.com.
Eiken:
Beautiful read, thank you{)))
Posted 08/10/2011 03:50 PM
Robertday:
So beautiful. "...who of us has the words for a nighttime garden?" Just beautiful...more please.
Posted 08/07/2011 05:07 PM
Sara Bruya:
Fantastic! The gardener in me is cooing...
Posted 08/07/2011 04:00 PM
KevinArnold:
Though we keep trying, who of us has the words for a nighttime garden? Great poem, gret stanza . . . the fifth line might go anywere, but it smartly comes back to the subject at hand.
Posted 08/07/2011 11:06 AM
sstenson:
Beautiful poem, Grace.
Posted 08/07/2011 10:18 AM