busy stained fingers
touch the ripe fruit
snap each from moorings
then drop it to heaps
of picked berries

collected in yellow buckets
we once used for sand castles
my little ones and I
gather berries
on a morning worth remembering

their towheads bob
two rows away from me
my head bobs slower
I am methodical and gleaning
each branch of its harvest

my children are so quick
they cannot wait to hurry away
they miss the best fruit
and I cannot stop them
or this morning

the early sun is slow
and oozing down pine trees
like thick flowing honey
we must shade our eyes
from its richness

the jays watch our progress
scolding our presence
that steals all their bounty
our buckets grow heavy
my children grow tired

the day has warmed us
so we get back into car seats
and drive home to muffins
we pack with blue treasure
and drink with cool milk
© by Dorothy K. Fletcher.
Used with the author's permission.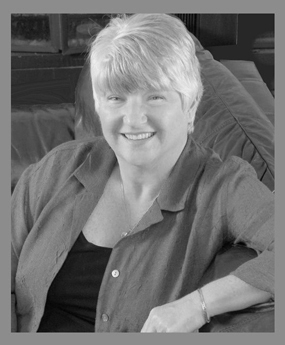 Dorothy K. Fletcher retired in 2007 after 35 years of teaching English in Jacksonville, Florida. Her poetry and articles have appeared in more than eighty publications, and she is the author of four published books. Dorothy resides with her husband, Hardy, in Jacksonville, where they are close to their children and grandchildren. She spends her days working on her monthly column, "By the Wayside," which she writes for The Florida Times Union. Learn more about Dorothy at www.dorothykfletcher.com.
loisflmom:
Many years ago I was one of those towheads, and when we were done picking, we took our pails to Nonny, who made the best blueberry pie ever! A wonderful memory-- thank you!
Posted 08/09/2011 01:05 PM
Carol Hauer:
Just beautiful. What lovely, sweet images.
Posted 08/09/2011 09:37 AM