I remember our Milwaukee neighborhood, made up of
tidy bungalows, side-by-side, all with big front porches
where parents and neighbors relaxed, watched over us.
It was full of voices and sounds all day long:
kids' shrill cries as they chased summer, and each other,
down the block and over to the pool; the satisfying, loud
rattle of playing cards stuck to bike wheels, when we
raced each other down the hill and to the corner;
the ragman's voice chanting and the tinkle of the cart-bell,
each time his ancient horse took a step; war whoops and 
cap guns while we kids played cowboys-and-Indians 
in the vacant lot at the end of the block; the musical jingle 
of the big horses' harnesses and the thud of their feet
when the garbage men came down the middle of the street, 
then the hollow clank of empty cans, set back on the curb; 
the small clink of the milkman's glass bottles in a wire basket, 
and the welcome clunk, in the kitchen, when he put them 
in the milk chute; hushed giggles from our favorite hiding place, 
under the back porch, and the heavy thud of grownup feet
going up the steps. But the best sound, the one we all 
strained to hear, on days when sidewalks burned bare feet,
was the ice cream man's bell, ringing the same two notes,
while he pushed his shiny white cart along the street gutter; 
the jingle of the coins when he made change, along with the 
slurping of hot, sweaty kids devouring ice-cold popsicles 
and dreamsicles, juices dripping, making sticky tracks 
down dirty faces and arms. Finally, the last sounds, after the
street-lights came on, the distinct cadence of each mom's voice,
calling all of our names, over and over, calling us . . . home.
© by Linda Lee (Konichek).
Used with the author's permission.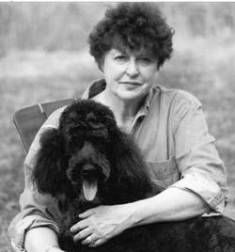 Linda Lee (Konichek) is a textbook author, entrepreneur, and former teacher who has always loved poetry, horses, and Wisconsin--not necessarily in that order. For the past twenty-five years, she has raised Morab horses (a cross between Morgans and Arabians) on a 114-acre farm in Eagle, Wisconsin; her poems tend to reflect the every day miracles that surround her there. Learn more about Linda at www.jerichocreekfarms.com.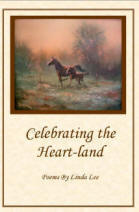 Lou Roach:
Such an "alive" poem, Linda--you've captured the time well! The mothers' voices is something I think we all re- call. Lou Roach
Posted 08/27/2011 03:58 PM
Kay Sanders:
Transpose this to a small mill village in the South and we could be cousins!
Posted 08/25/2011 05:37 AM
Jo:
Linda, Your wonderful details reminded me of another time, another city, but born in 1941, we share many of the same things. The poem recalls it all. Thank you.
Posted 08/24/2011 04:42 PM
pwax:
Well done, Linda! You let us hear all the sounds of that neighborhood at that time, filtered through the ears of Linda Lee, the child.
Posted 08/24/2011 04:26 PM
LindaCrosfield:
Lovely. There's a popsicle in the freezer and I'm going to go get it right now! (I was Linda Lee until I got married, too!)
Posted 08/24/2011 01:41 PM
Linda Lee (Konichek):
Several have emailed and asked when exactly this was, that there were milkmen etc. with horses. I was born in 1941 and remember wanting to eat lunch with the garbagemen when I was around four. My extra-clean mom was horrified!
Posted 08/24/2011 01:38 PM
El:
Your poem brings cherished memories to life of times spent in the "old" neighborhood with my best friend then and now, some 52 years later. I had forgotten about the milk chute; playing store by opening and closing the outside and inside doors was such great fun. The poem creates a true time capsule with words. Well done! -El-
Posted 08/24/2011 12:35 PM
Janet Leahy:
The poem stirs memories, its like a scene from a movie with colorful details. Love the ending, the mothers' voices calling their children home.
Posted 08/24/2011 07:23 AM