On the beach where you gather stones for a fire pit
stories percolate like coffee on a cold morning
stories new as the first time you ride a bike or land a fish
old as how you couldn't wait to get away.
But now you're back to watch the sky evolve from blue to blush
and the first star shines as it never could in a city.
No fan of winter, each year you long for its elapse
grow tired of watching ice form on the pool behind the house
smooth as linoleum, slick as aloe on a burn.
Here, the wind has pine on its breath
stick-figure trees unfurl their leaves
stand majestic once again on vulnerable ground.
Newly-fledged flickers chitter in the apple tree
two-tone song of chickadees
evocative of every spring you've ever known
delights you, invites you to dance 
on this sun-parched earth
ebullient as an eagle on a thermal
satisfied as any lover. 
You know you're safe here, meandering through the seasons
home at last, there's nowhere else to go.
This poem originally appeared in Winsome Words, the 2006 Beret Days Press anthology from the Ontario Poetry Society.
Used here with the author's permission.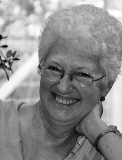 Linda Lee Crosfield lived in Ottawa, Windsor, Montreal, Toronto and Vancouver before returning to the Kootenays where she was born. She is not fond of winter, but lives quite happily nonetheless in Ootischenia (which means "valley of consolation" in Russian) in southeast British Columbia, where she spends her time writing poems and then massaging them to death. Linda Lee once walked into a post at the Toronto airport while reading a book. She shares her life with her husband, Ted, who is a woodturner, and Dudley the cat, who is lovely but loud. Learn more about her by visiting her highly entertaining blog.
tannerlynne:
I for one am already counting the days until I an see that star and smell wind with pine on its breath. I will read this poem over and over. LST
Posted 09/04/2011 11:31 AM
vwilke:
The images are so sensual, slick as aloe on a burn,the wind has pine on its breath, newly-fledged flickers chitter, nowhere else to go, indeed. Beautiful!!
Posted 09/03/2011 01:27 PM
wendy morton:
a shining star of a poem,an end of summer dance.
Posted 09/03/2011 12:30 PM
Reganz:
Perfect for a Labour Day weekend. I too am not fond of winter, but have made my peace with meandering through the seasons. Thanks for your poem, Linda.
Posted 09/03/2011 12:12 PM
dotief@comcast.net:
So many wonderful images as she walks us through the seasons. Lovely, poignant, powerful!
Posted 09/03/2011 11:28 AM