I walk nimbly
through the rain soaked streets
to the café that serves
the best dark roast coffee
I've ever put my lips to. 
The café that employs
the waitress
with straight black hair 
and the tattoo of a pink dragon
on her ankle
that I admire
when she walks away.
And I wonder,
albeit briefly, 
if she says
nice things about me
to the other waitresses
behind the gray
swinging doors. 
Like how I visit 
my grandfather 
in the nursing home,
or how I hold the door
open for old ladies
at the mall, 
and how I work 
with kids with autism. 
She brings my coffee
and I stir it into
the color
of her eyes
slurping it down
before she notices.
When she brings 
my eggs 
I sprinkle 
two shakes of pepper
over them 
and watch her pivot
and begin to leave.
I open my mouth
to say something
but I chicken out and 
take a bite instead.
© by Tyler Bigney.
Used with the author's permission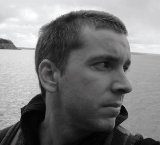 Tyler Bigney was born in 1984. He lives, and writes in Nova Scotia. He is of average height and weight. He sleeps with one leg under, and one leg above the sheets.
dianapoet:
Very real. I like it
Posted 09/08/2011 09:28 PM
apersephone:
I wish there was a like button to push...
Posted 09/08/2011 10:21 AM
Tyler:
Thank you for all the nice, and inspiring comments. Next time, I will say something. Cheers.
Posted 09/08/2011 09:20 AM
Carol Hauer:
The next time, say something. You obviously know how.
Posted 09/07/2011 10:33 PM
Joe Sottile:
I feel like I am sitting at a table across from Tyler. I like each short line of this poem, and the ending which seems rather authentic to me. The whole poem reads very smoothly.
Posted 09/07/2011 03:40 PM
jeanie:
perfect, simple, sweet. love it.
Posted 09/07/2011 02:04 PM
KevinArnold:
Another reason to start my day with YDP. Fun poem and bio. Ah youth!
Posted 09/07/2011 10:21 AM
Glen Sorestad:
I loved it, Tyler. Simply, but brilliantly focused.
Posted 09/07/2011 08:45 AM
Linda Lee (Konichek):
YDP is almost as important as my morning coffee now, and poems like this are the reason. Wonderful detail and images, brings back the days when I was a waitress working my way through college; thanks for another poem that does everything a great poem should. Keep writing and caring,Tyler.
Posted 09/07/2011 08:05 AM
Donal Mahoney:
This young poet has a future that he has begun to realize already.
Posted 09/07/2011 07:21 AM
tannerlynne:
Great bio!
Posted 09/07/2011 07:11 AM
r1manchester:
tyler.... a nifty piece of writing and...just ask her "why pink"? who knows...maybe she sleeps the same way.
Posted 09/07/2011 04:24 AM