Camouflage is all the rage.
Ladies in their fight with age –
Soldiers in their fight with foes –
Demagogues who mask and pose
In the guise of statesmen – girls
Black of eyes with golden curls –
Politicians, votes in mind,
Smiling, affable and kind,
All use camouflage to-day.
As you go upon your way,
Walk with caution, move with care;
Camouflage is everywhere!

This poem is in the public domain.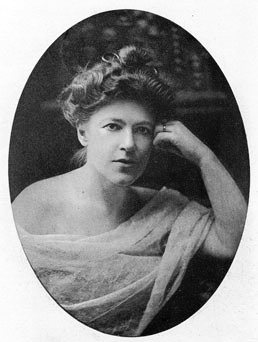 Ella Wheeler Wilcox (1850-1919) was a popular and prolific poet. Published and lauded before she even graduated from high school, Ella preferred to write happy, upbeat poetry and was much beloved for it. More than a dozen of her poems are included in the book, Best Loved Poems of the American People (Doubleday, 2008). The familiar saying, "Laugh and the world laughs with you, weep, and you weep alone. . ." comes from her best-known poem, "Solitude." A morally strong and spiritual person, Ella believed that her purpose on earth was to practice kindness and service. Read more about her here.
KevinArnold:
I'll show how low-brow I am by declaring myself an Ella Wheeler Wilcox fan. But I'd never seen "Camouflage;" thanks. Here's the opening of another of her poems, "The Man Worth While." It is easy enough to be pleasant, When life flows by like a song, But the man worth while is one who will smile, When everything goes dead wrong.
Posted 09/09/2011 09:01 AM
dotief@comcast.net:
Very true!
Posted 09/09/2011 08:58 AM