The spotted hawk swoops by and accuses me—he complains of my gab and my loitering.
I too am not a bit tamed—I too am untranslatable;
I sound my barbaric yawp over the roofs of the world.

The last scud of day holds back for me;
It flings my likeness after the rest, and true as any, on the shadow'd wilds;
It coaxes me to the vapor and the dusk.

I depart as air—I shake my white locks at the runaway sun;
I effuse my flesh in eddies, and drift it in lacy jags.

I bequeathe myself to the dirt, to grow from the grass I love;
If you want me again, look for me under your boot-soles.

You will hardly know who I am, or what I mean;
But I shall be good health to you nevertheless,
And filter and fibre your blood.

Failing to fetch me at first, keep encouraged;
Missing me one place, search another;
I stop somewhere, waiting for you.


Excerpted from "Song of Myself," in Leaves of Grass.
This poem is in the public domain.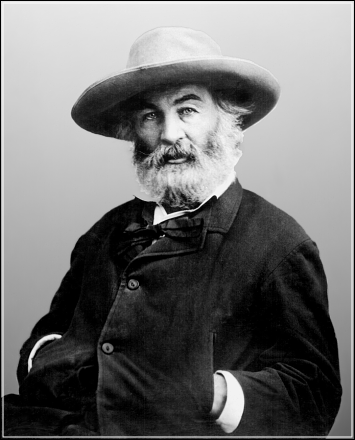 Walt Whitman is primarily known for a collection of poems called Leaves of Grass, which he completely revised at least five times during the course of his life and which appeared in print in at least three different editions. Though his formal education ended with elementary school, Whitman was an educator at several points in his life. More often, he worked as a printer, a clerk, or a nurse; he was chronically poor, but managed to interject culture (he loved opera) and travel into his life. He achieved international acclaim during the course of his career, but probably had as many detractors as he did fans.
Ginny C.:
The hawk is important as the part about being untamed and untranslatable refer back to it. One could do worse than to be compared to a hawk. And I too love the barbaric yawp.
Posted 09/14/2011 04:53 PM
Ralph Murre:
Nice work, Walt! And congratulations on making YDP!
Posted 09/14/2011 12:02 PM
KevinArnold:
What a surprise to turn to YDP this morning and find Walt Whitman's barbaric yawp. I love them both but wasn't sure they would even be on speaking terms. Jayne has facets that sparkle in many directions.
Posted 09/14/2011 09:07 AM
angierdh:
So, we'll just leave off the first line and change to other one to "I depart as air—I shake my BLOND locks at the runaway sun". got it!
Posted 09/14/2011 07:37 AM