Morning wears crisp cotton and smoky tulle
woven through with gold light.

North Shore mountains are sensibly dressed
in darkest denim, their tops
hidden, cozy under unrolling
bolts of blue- and gray-tinged fleece.

The park has thrown on a shawl
of gaily embroidered leaves
in tangerine, scarlet, yellow,
wine, olive.

Even dwarf cedar has accessorized
her sensible green boucle
with red leaf appliques
of delicate Japanese maple

This poem first appeared in Cappers (October 2004).
Used here with the author's permission.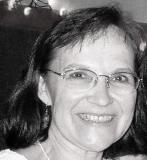 Violet Nesdoly grew up on a farm in Saskatchewan, the oldest of nine children. She learned early the pleasure of immersing herself in the words of others--a perfect way to avoid the noise and big-sister responsibilities of a large family. That soon morphed into a desire to try her hand at writing, resulting in publication, "way back when," Violet says, in the Western Producerís Young Co-Operatorís page. She came back to writing in general and poetry in particular about twelve years ago and has since had poetry published in various print and online publications including Capperís, The Prairie Messenger, Good Times, Vogue Patterns, Time of Singing, and others. Violet has also published two books of poems ó Calendar and Family Reunion. She currently lives in Langley, British Columbia, and makes a practice of never leaving home without her camera. Find out more about her at violetnesdoly.com.
tannerlynne:
Violet is appropriately named. such lovely sense if color and words.
Posted 10/30/2011 09:54 AM
loisflmom:
So beautiful,but only a memory for those of us who have migrated to tropical climates.
Posted 10/30/2011 09:10 AM
Carol Hauer:
I love these images. I can actually see these sights in my mind. Thank you.
Posted 10/30/2011 08:30 AM