Snow floats past the trees' black branches
and settles on the depressed riverbed below
as wind keens, haunting and hollow,
but it is when I hear the loon cry
someone recorded on the mechanism in the base
that the world seems most lost in cold.

I hold the sphere with both hands, turn off the switch.
Ordered from a catalogue on a whim, it anchors
the papers piled high
next to my bone-china teacup.

A month of warm October days,
November's cold has rendered the leaves to red leather
curled and black at the edges. They litter
the brick patio where each burst of wind
lifts and turns them
into little tornadoes.

Delinquent again from church, I watch them twirl
as guilt holds its flaming sword over my head - I know
at Sunday dinner my mother-in-law will ask
if I attended services and no excuse
will be good enough,

But later, home again, I'll take my son outside
and we'll crunch our booted way through the leaves
and breathe the sting of peppermint air
that hangs over the garden where Yoshi sleeps,
his orange-furred body in a forever nap
among the tulip bulbs, and we'll place our palms
on top of Yoshi's grave in a feeble attempt
at benediction, and reaffirm what I have always known,
that there are more ways than one
to worship the Lord.
© by Sherry Beasley.
Used with the author's permission.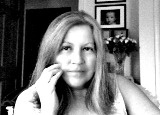 Sherry Hughes Beasley lives in the foothills of the Blue Ridge Mountains in southern Virginia. Her poems have appeared in numerous literary journals and she is the recipient of eleven poetry awards, including the 2009 Edgar Allen Poe Memorial Award. A jeweler, perfumer, soapmaker, and environmental and animal protection activist (says Sherry, "I would rescue every abused and/or neglected animal in the world if I could!"), she is the mother of two grown sons, has one granddaughter, and lives in a house she and her husband designed themselves.
Jo:
Amen!!
Posted 11/13/2011 07:29 PM
transitions:
I like "guilt's flaming sword" and agree "more than one way to worship the Lord" ~ love your poem ~ thanks. Judy
Posted 11/13/2011 11:53 AM
Linda Lee (Konichek):
A great "Amen" for that last line! Thank you!
Posted 11/13/2011 11:13 AM
ebaswell@gmail.com:
That was absolutely beautiful. Thank you!
Posted 11/13/2011 08:41 AM
dotief@comcast.net:
Very nice!
Posted 11/13/2011 07:49 AM
Janet Leahy:
Offering an attempt at benediction in the sting of peppermint air, how lovely. Thanks
Posted 11/13/2011 06:18 AM