My mother 
taught me knock kneed
Charleston
bellowed witch doctor songs
tangoed down the hallway
stretching legs and arms
into sweet contorted hugs
did she know some day
I'd need to remember
how silliness
saves the world
at least some of the time
ting tang walla walla bing bang
© by Maryann Hurtt.
Used with the author's permission.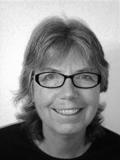 Maryann Hurtt lives down the road from the Ice Age Trail in Wisconsin. Working as a hospice nurse (especially emptying bedpans) keeps her grounded in everyday life. Her poetry has been published in several regional journals and she co-authored a book about hospice care. Learning Czech is Maryann's newest passion and she is starting to dream, and sometimes write poetry, with hints of Czech.
lisa:
This is so my Mom who went to heaven tonight her sllinesss helped her live a vibrant life for 93 yr THANKS MOM and MaryAnn
Posted 10/03/2013 10:17 PM
Jhurtt1020:
We love this poem and the poet! Love, Jim & Dad :)
Posted 02/18/2012 05:33 PM
kukana228:
Hello, Maryann, Like your poem very much. Sometimes, silliness can get you through!
Posted 12/02/2011 03:53 AM
marenomitchell:
Maryann, your Mom had it right! You are lucky.
Posted 12/01/2011 01:32 PM
LindaCrosfield:
Now there's a truth! Here's to silliness.
Posted 12/01/2011 12:57 PM
tomleech:
Fun and a Chuckle.
Posted 12/01/2011 11:41 AM
Marilyn L Taylor:
Love this, Maryann! Marilyn Taylor, your friendly one-eyed one-horned flying purple people-eater
Posted 12/01/2011 11:11 AM
beachstone:
I love this poem. It reminds me of my own crazy fun mother who died in 2001. Thanks Savannah
Posted 12/01/2011 09:39 AM
KevinArnold:
Great fun. Reminds me of a friend's refrigerator sign that asks "What if the Hokie Pokie really IS what it's all about?" I particularly enjoy the integration of the singsong lyrics even into the title.
Posted 12/01/2011 08:54 AM
onionbird:
Write on, Maryann. 'cause you're right on!
Posted 12/01/2011 08:33 AM
dotief@comcast.net:
I'm in!
Posted 12/01/2011 08:27 AM
Janet Leahy:
To save the world with song and dance—now there's a campaign slogan!
Posted 12/01/2011 08:10 AM
ed werstein:
Excellent poem. Fun. I didn't know Czech was such a funny language.
Posted 12/01/2011 07:55 AM
wordsmith:
Chuck and I are still smiling, Maryann. What a fun poem! Hugs, Mandi
Posted 12/01/2011 07:46 AM
jeanie:
yes!
Posted 12/01/2011 07:12 AM
tiddles:
Great line: sweet contorted hugs. Kudos, Maryann! Marilyn
Posted 12/01/2011 06:52 AM
Rob:
Beautiful. Reminds me of my mom's silly singing ("I went to see my Suzy/She met me at the door/Her shoes and stockings in her hand/and her feet all over the floor") and funny dancing. I remember being astounded to learn as a kid that not all mother's did such things!
Posted 12/01/2011 06:34 AM
LisaV:
Perfect, Maryann!
Posted 12/01/2011 05:50 AM
Kay Sanders:
Wonderful way to start the day, Maryann - with a laugh-out-loud moment and then a bit of reflection that yes, this can save us all. Thank you, dear friend.
Posted 12/01/2011 05:50 AM
nancy scott:
A good lift for the day.Thanks.
Posted 12/01/2011 05:30 AM
Gary Busha:
Doo wa, do wa. Yes.
Posted 12/01/2011 05:07 AM