Through the nursery glass
Carlos Montero peeks at Consuela,
his twelfth, in the arms of a nurse.

Pink as a peony
with brilliant black hair,
Consuela is raw, bawling.

The nurse takes Consuela
away to be washed as Carlos
digs deep in his denims,

locks elbows, gleams,
turns to me. I feel odd
in a suit and a tie as I

wait to see Sean, our first.
When the nurse brings Sean to the window,
Carlos Montero whips off his sombrero,

makes a bullfighter's pass and beams.
"Senor!" he booms like a tuba. "Ole!"
Suddenly I'm as happy as he.
© by Donal Mahoney.
Used with the author's permission.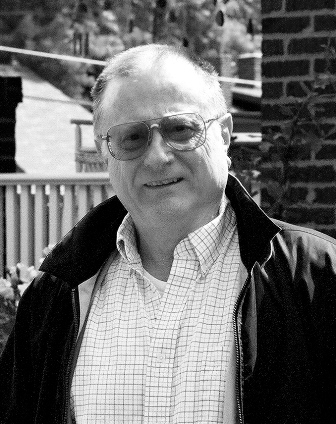 Donal Mahoney lives in St. Louis, Missouri. A native of Chicago, he spent the early Seventies actively submitting poems to print journals and enjoyed some success. He then took a 35-year hiatus from poetry to work as an editor of prose at such lofty establishments as the Chicago Sun-Times, Loyola University Press, and Washington University in St. Louis to support and educate five children. Upon retirement, Donal took to his recliner, and was perfectly happy sitting and listening to Gregorian chant all day. After three years, however, his wife interrupted with a Gregorian chant of her own. She bought Donal a computer and showed him where the boxes of still-unpublished poems had been stored in the basement for many years. Thus Donal began actively submitting again in June 2008. He has since had nearly three hundred poems published here and abroad, an achievement he credits largely to his wife.
Eiken:
Donal, Superb poem, just adore the father's view of new birth and I have to love Carlos. Pink as a Peony...wonderful line. I have had a few babies as a mother but it is not often we get a glimpse of the father's outside waiting and how they feel. I feel you are Irish like me even though your bio does not mention any Irish links. Maire
Posted 12/06/2011 04:32 AM
Marilyn L Taylor:
I like Donal Mahoney's bio almost as much as his poem! Both were a treat to read.
Posted 12/04/2011 01:41 PM
pwax:
Well done! You convey feeling without being maudlin. I enjoy your poetry.
Posted 12/04/2011 12:20 PM
marenomitchell:
Your poem rings with just-born freshness and true charm. Beautifully done! Ole!
Posted 12/04/2011 11:39 AM
Donna Pflueger:
What a vivid moment you captured. Your poem filled up all of my senses and as I read, I felt like I was right there with you. Your last stanza touched me deeply. Thank you for sharing your wonderful poem.
Posted 12/04/2011 08:59 AM