It's the time of deepening shadows,
the time of long, cold nights.
As sun gives way to darkness,
we reach for the candle's light.

Shadows that appear after twilight,
hold memories of days long ago.
We make them part of the circle
and they add to the fire's glow.

Star-shine and darkness are blended
as we gather with those we hold dear.
And the Light is present among us
at this luminous time of the year.

© by Katy Phillips.
Used with the author's permission.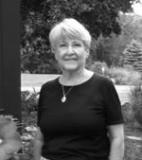 Kathleen (Katy) Phillips is a wife, mother, grandmother, former teacher and current creator of poetry and children's literature. Writing didn't enter her life until she was in her mid-sixties, but has provided a wealth of excitement and learning ever since. Katy has written eight books of poetry (which she handcrafts and sells locally), participated in several ekphrastic poetry projects, and has had work published in a number of journals and anthologies. She and her husband of 50 years have recently sold their house in rural Wisconsin--home for nearly 40 years--to move to an apartment in Milwaukee . . . from country to city, and ready for a great new adventure!
Janet Leahy:
A gentle poem helping us deal with the darkness. The candle light at twilight, how perfect. Thanks Katy
Posted 12/21/2011 10:22 AM
mukwonagosusan:
You are so good at bringing Light into your poetry and thus to us. Thanks, Katy.
Posted 12/21/2011 09:00 AM
Anjie:
Love that "candle's light" warmth. This is quite lovely, Katy, a perfect blessing for this time of the year. May God bless you, and may you continue to keep writing beautiful poems. -Anjie Kokan www.promptsforwriters.blogspot.com
Posted 12/21/2011 06:55 AM