Yes, every baby's beautiful, but mine
has eyes so black, and skin so olive-gold
that I'm afraid--almost--of touching him.
They told me he would be a special child,
but I had no idea a babe this new
could seem as old and rightful of his place
as if he'd lived our lives before and knew
my worst, but loved my best, before my face
had ever looked on his. It calls to me,
his ancientness. My son will gather friends
to him like grapes, and also enemies,
I fear. There'll be no middle ground with him.
And even those who'll hate him most will be
forever haunted by this boy with me.
Copyright 2009 by Dana Wildsmith.
Used with the author's permission.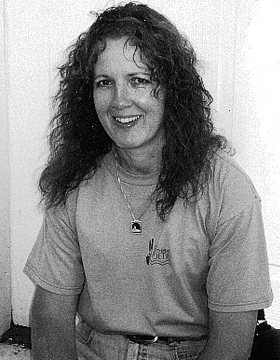 Dana Wildsmith is the author of four collections of poetry and a memoir, Back to Abnormal: Surviving with an Old Farm in the New South. Born and raised in rural South Georgia, she traveled extensively as a Navy wife before settling in Bethlehem, Georgia, on a century-old family farm outside Atlanta. Dana's love of family, nature, music, tradition, and life's simple joys is the focal point of her poignant, compelling work, which has been featured in numerous journals, magazines, and anthologies, including the highly acclaimed Listen Here: Women Writing in Appalachia. She is a gifted, generous teacher as well, sharing her passion for language from ESL classes at Lanier Technical College to residencies acoss the country. Most recently, Dana has been named as a finalist in the essay category for the Georgia Author of the Year. Learn more about her at www.danawildsmith.com.
Glen Sorestad:
Not only a beautifully done dramatic monologue, but a sonnet no less. Bravo, Dana.
Posted 12/25/2011 01:48 PM
dotief@comcast.net:
Most profound!
Posted 12/25/2011 11:18 AM
KevinArnold:
"There'll be no middle ground with him," delighted me in its unexpected foretelling; an most interesting poem for December 25th.
Posted 12/25/2011 11:12 AM