The mouths of their tubes open, 
luscious tongues reaching. 
I'm drawn to them — the thick
color embedded and shaped,
the sheen glistening, 
the slanted tips fat with promise. 
My mother wore Love That Red
and when she put it on, I knew 
she was going farther 
than the clothesline 
or the edge of our corner lot,
knew the way her lips pursed 
that love it or not, red was her color,
the way it lit her brown eyes
and she was taking all of it with her.

From An Inventory of Lost Things (Centennial Press, 2009).
This poem also appeared in Her Mark Calendar (Women Made Gallery, 2008).
Used here with the author's permission.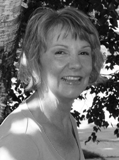 Karla Huston, Wisconsin's current Poet Laureate, lives in Appleton, Wisconsin. Author of six chapbooks of poetry, most recently An Inventory of Lost Things (Centennial Press, 2009), her book, Flight Patterns, won the Main Street Rag chapbook contest in 2003. She has earned numberous writing awards, including residencies from the Ragdale Foundation and Bread Loaf, and her work has appeared in many journals. Learn more about Karla at www.karlahuston.com.
Linda Lee (Konichek):
Love red lipstick, and love your poem just as much, Karla!
Posted 01/21/2012 05:41 PM
marenomitchell:
Glistening with the life of loving memories! Thanks.
Posted 01/21/2012 11:08 AM
ed werstein:
Great poem, Karla.
Posted 01/21/2012 09:17 AM
KevinArnold:
Starting with the title, not a false note. Bravo!
Posted 01/21/2012 09:15 AM
Jo:
Love this poem Karla--and the book. I especially like "farther than the clothesline....
Posted 01/21/2012 08:35 AM
Anjie:
Love "the way it lit her brown eyes" -- It's a great poem, Karla, and we love the book, too. ~Anjie & Robert <3
Posted 01/21/2012 08:31 AM
Gary Busha:
A good poem, one of many by this importnat Wisconsin poet.
Posted 01/21/2012 08:31 AM
jeanie:
i love that, "farther than the clothesline" perfect, karla.
Posted 01/21/2012 07:58 AM
dotief@comcast.net:
Our mothers were so much mystery, back in the day. This poem accentuates that motherly quality! Excellent job!
Posted 01/21/2012 07:53 AM
mimi:
one of my favorites of your many wonderful poems! Sharon Auberle
Posted 01/21/2012 07:35 AM
lincolnhartford:
Wow. Admiring your sensuous mother with this little sensual poem. Tucked in tight. Lincoln
Posted 01/21/2012 06:15 AM
LisaV:
Love that red! Nice poem, Karla.
Posted 01/21/2012 05:51 AM