A tired little boy curls on the floor,
on the stair—wherever his mother

stands, talking on the phone. He
clutches a cotton blanket, sucks his

thumb as if his skin is honey. Some
day, he'll meet a girl, fall in love.

When she leaves a room, the boy
will feel as if the wind has blown

through it, taking everything. For
now, however, he sees no one but

his mother—as if he is a sunflower,
and she, his only source of light.


From In the Palms of Angels (Press 53).
Used with the author's permission.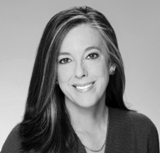 Terri Kirby Erickson is the award-winning author of three collections of poetry, including her latest, In the Palms of Angels (Press 53). She considers herself blessed and fortunate to have any success at all, doing work she loves. "Poetry has been such a healing force in my life," says Terri, who shares her love of writing and reading poetry by volunteering at the Derrick L. Davis Forsyth Regional Cancer Center in Winston-Salem and guest lecturing in creative writing classes at R. J. Reynolds High School. Terri has also taught poetry at Salem College and has conducted a number of poetry workshops for teenagers. Asked her career goals as a published author, she declares, "I want to make poetry more popular in this country than NASCAR!" A North Carolina native, Terri lives in a small town outside of Winston-Salem, with her husband of twenty years. Learn more about her at http://terrikirbyerickson.wordpress.com.
Smosna:
I love this poem and I love Terri. I think she is a phenomenal poet! I hold this piece of hers especially close to my heart! Charity Smosna
Posted 02/07/2012 06:13 PM
dotief@comcast.net:
I love this! All us Mommies understand (as I am sure a few Daddies do too).
Posted 02/05/2012 02:01 PM
KevinArnold:
For reasons that are hidden to me, this poem is most meaningful. Wonderful!
Posted 02/05/2012 01:43 PM
LindaCrosfield:
Caught, beautifully, the relationship between a little boy and his mother.
Posted 02/05/2012 12:38 PM
Donna Pflueger:
Terri, your poem is like a crystal refracting so many loving rays of light. Absolutely beautiful. This is a poem I will long remember. Thanks.
Posted 02/05/2012 12:34 PM
69Dorcas:
A child's world is so small, so brief, so enclosed with mother.
Posted 02/05/2012 11:35 AM
Julianne Carlile:
I don't think poetry will ever be more popular than NASCAR, but it is a nice counterpoint!
Posted 02/05/2012 10:57 AM
dianapoet:
This is beautiful!
Posted 02/05/2012 10:38 AM
Katrina:
I feel this poem demands a kiss rather than a comment x
Posted 02/05/2012 09:35 AM
mimi:
lovely, lovely poem..thank you
Posted 02/05/2012 09:32 AM
Glen Sorestad:
I love the image of the empty room after she leaves "as if the wind has blown/through it, taking everything". Nicely done, Terri.
Posted 02/05/2012 09:16 AM