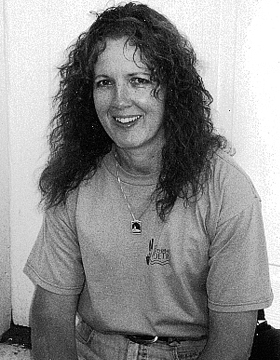 How did you come to be a professional poet?
Well, I'll have to let you know if I become one. I've written poetry for most of my life, but it certainly has never earned me enough money for it to be considered a vocation- more of an avocation. I love writing poetry and I am pleased when what I have written resonates with someone else. For the past few years I have been writing prose almost exclusively and though what I'm writing isn't poetry, my years as a poet inform and flavor my prose in a way I believe cannot happen with a writer who comes to prose from an exclusively prose background.
Do you have favorite poets or poems?
My first and enduring favorite poet is Gerard Manley Hopkins. I continue to be moved by the lushness of his language and I admire and have emulated his practice of playing around with words to see how they can be linked sound-wise and meaning-wise.
What's the most interesting "poetry pilgrimage" you've ever made? I guess that would be a mental pilgrimage, made as I was writing a series of poems about almost burning to death when I was fourteen. I lived through the whole experience again, in my head, but deliberately, with a view toward recapturing it in a visual way.
In the great scheme of things, where does poetry fit in?
Poetry says what we cannot say when we come to a place where we can no longer move forward. It's then that someone else's poetry fills the void in us and tells us where to go next.
Describe your writing routine and/or process.
I try to write for an hour or two early, very early, before I leave for school or otherwise start my day. The rest of the day I carry the poem or the page around in my head. living with it.
What's the most absurd thing you've ever written a poem about?
What kinds of people my dogs would be, if they were people.
When/where are you most inspired?
I don't really believe in inspiration. I am most moved to try to find words when I don't understand something.
Which classic poet would you most like to meet, and why?
Maybe Ovid. I think we would have understood each other.
Is there some consistent trademark or characteristic that you've discovered in your poetry?
I am a very down-to-earth poet. I write about the things of every day, but with a twist, and people seem to like that.
Anything else you'd like to share--advice, anecdotes, forthcoming adventure, etc?
Anyone want to publish a collection of off-center Christmas poems? Because I have one waiting to be born. As to advice- I judge a lot of poetry contests and the thing I most want to tell the contestants is to remember that just because you have written very short lines, what you've written isn't necessarily a poem. A poem must move from the stated to a new place of understanding.
Many thanks to Dana for her time and reflection on these questions. Your Daily Poem will feature one of her "off-center Christmas poems," as she calls them, "Our Story Thus Far," on December 25th, and you can read more of Dana's poems by browsing the YDP archives.
Dana Wildsmith is the author of four collections of poetry and a newly released memoir, Back to Abnormal: Surviving with an Old Farm in the New South. Born and raised in rural South Georgia, she traveled extensively as a Navy wife before settling in Bethlehem, Georgia, on her parents' farm. Dana's love of family, nature, music, tradition, and life's simple joys is the focal point of her poignant, compelling work. She is a gifted, generous teacher as well, sharing her passion for language from ESL classes at Lanier Technical College to The Island Institute in Sitka, Alaska. Most recently, Dana was Artist-in-Residence for the South Rim of the Grand Canyon National Park; I'd love to have been on hand to watch her teach those park rangers to write poetry!
Why poetry?
Because I'm a singer and poetry is as close to singing as you can get without music.