Dancing which leaves no trace,
like tears which have run their course,
and left lightness in their wake;
we dance when we canít speak
by the window next to the place
where a drunk
left skid-marks on the street last week
crashing someone elseís stolen car.
Dry-eyed we dance.
The music. You kiss my hair.
A feather. Our feet are lighter.
You said dancing
with you must be like dancing
with an anaesthetized bear,
a rolled-up carpet.
Not true. Itís an ocean.
I swim I swan I swoon up your leg.
Turn and spoon,
rocking comfortably
like driftwood.
Green wind touches light curtains
in the month
that promises pomegranates
but delivers rain,
and my bodyís wedged
into yours,
hip nestled into hip,
arm to waist-curve.
Moments like these
I want to die and leave no trace.
I want to go out dancing,
one small step left,
then moving lightly off
this earth into whatever comes next.
© by Alison Luterman.†
Used with the authorís permission.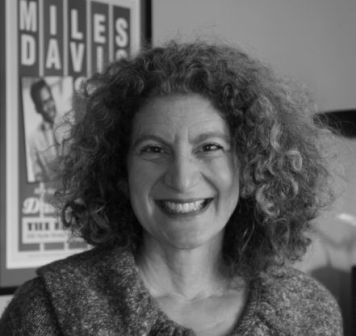 Alison Luterman lives with her husband and five feral cats in the San Francisco Bay Area, where she teaches poetry to schoolchildren and essay writing to grown-ups. She also performs in an improvisational dance theatre troupe and sometimes writes plays, as well. Alison has worked at a variety of jobs in her life, including HIV test counselor, free-lance journalist, drama teacher, and massage therapist. She has a particular passion for the rights of neglected and impoverished children.Learn more about Alison at www.alisonluterman.net.
69Dorcas:
Yes, my being with his.
Posted 02/09/2012 09:09 PM
marenomitchell:
To be happy to die in some moment - life cannot be better than this.
Posted 02/09/2012 04:35 PM
Sharon Urdahl:
Beautiful and sensual...evoked the slow dance of love...thank you
Posted 02/09/2012 01:17 PM
Glen Sorestad:
Even a dancer with two left feet has to admire this poem.
Posted 02/09/2012 12:43 PM
Linda Lee (Konichek):
Another "Bravo" this poem just says it all, and the images are perfect. "...Moments like these I want to die and leave no trace..." That is a feeling one never forgets. Thank you very much, Alison!
Posted 02/09/2012 12:06 PM
KevinArnold:
A tour de force; to dance 'into whatever comes next.' Bravo!
Posted 02/09/2012 09:34 AM
dotief@comcast.net:
What powerful imagery! I love the "green wind" that "touches light curtains/in the month that promises pomegranates/but delivers rain." I love the thought of stepping off the earth in some wonderful pas de deux. Such magic! Such poetry!
Posted 02/09/2012 08:17 AM