Her arms were thick, her bosom a pillow.
On aching bunions, she stood in the kitchen
tending a pot flavored with oregano.
Born a New Yorker of Florentine origin,
she came to Chicago, still a young girl
but clung to some of her New York ways.
She'd say poice and poiple for purse and purple
and sometimes yous guys and oy vey.
In the photo by the Rambler with grandpa
she flashes her smile, shows off her legs.
She was a bit of a ham, my Nana,
but read her Bible to finish each day.
She sang "Ave Maria" and "Jesus Loves Me"
to herself as she made ravioli.

From A Brief History of Mail (Pebblebrook Press, 2011).
Used here with the author's permission.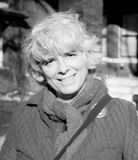 Lisa Vihos began writing poetry in college, then changed directions and was an art museum educator for twenty years. In 2007, she returned to poetry, her first love; she is now the author of two chapbooks (A Brief History of Mail, Pebblebrook Press, 2011, and The Accidental Present, forthcoming this summer from Finishing Line Press), works as an associate editor for Stoneboat Literary Journal, and is an occasional guest blogger for the The Best American Poetry. Lisa's work has appeared in numerous small journals, most recently in the anthology, Villanelles (Everyman's Library). Currently the alumni director of Lakeland College, she lives in Sheboygan, Wisconsin, where she enjoys Lake Michigan, cooking, movies, reading, bicycling, listening to her teenage son play guitar, and zumba--not necessarily in that order.
Ralph Murre:
Ave Lisa, nice work.
Posted 02/24/2012 11:09 AM
ed werstein:
Grandmas were all alike. I don't mean midwestern Florentine/NY transplants. I mean cooks cooking, always cooking. Nice poem.
Posted 02/24/2012 09:30 AM
KevinArnold:
The past tense quietly powers this fine poem.
Posted 02/24/2012 09:04 AM
mimi:
lovely portrait, Lisa...
Posted 02/24/2012 07:30 AM
jeanie:
holy ravioli, lisa! nice work.
Posted 02/24/2012 06:52 AM
wordsmith:
Wonderful, Lisa! Cheers, Mandi
Posted 02/24/2012 05:42 AM