Winter sunlight, fool's gold, pours in the south window,
fails to warm. Weak as tea, pale as bone, insubstantial
as dust on a mantle, water falling over stone.
The ground outside, hard, white as the hospital bed
where my friend waits after her marrow transplant,
hoping her white count will rise. I watch birds at the window—
sparrows, titmice, finches—the plain brown, the speckled,
the ordinary, no flashy travelers up from the tropics,
where winter is a verb, not a state of the heart.
I go out to fill the feeder, feel silky grain slip
through my fingers: millet, proso, corn. Little birds,
little angels, singing their small song of consolation.
A thin drizzle of sun slips through clouds,
a strand of hope against the icy odds.

From The White Poems (Barnwood Publishers, 2001).
This poem first appeared in The Roanoke Review.
Used here with the author's permission.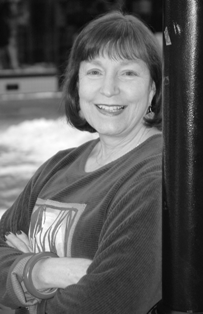 Barbara Crooker is the author of ten chapbooks, three full-length books, and more than 700 poems published in more than 2000 publications. She credits her achievements to perseverance as much as talent, and says, "Writing poetry is not putting down whatever comes into your head, and leaving it at that, never taking it any further. Poetry involves layers, and a lot of revision." Barbara lives in Fogelsville, Pennsylvania, and this poem is from a lyric narrative hybrid chapbook of poems, The White Poems, about a friend and neighbor with breast cancer. Read more about Barbara at www.barbaracrooker.com.
69Dorcas:
This poem is replete with hope.
Posted 02/28/2012 04:52 PM
transitions:
I Love This Poem - it says so much so well. How I wish winter was just a verb... Awe-inspiring; thank you. Judy
Posted 02/28/2012 03:35 PM
Linda Lee (Konichek):
Brings back memories of my own friends and their battles with cancer and leukemia, excellent images, especially the hope in the final line. I always look forward to the poem when I see your name on it. Thanks for the hope.
Posted 02/28/2012 12:23 PM
Jo:
Dear Barbara, You always come through. The perfect poem for an imperfect time in my life. TY.
Posted 02/28/2012 11:50 AM
peninsulapoet:
Lovely poem.
Posted 02/28/2012 09:33 AM
Marilyn L Taylor:
Having just gone through a difficult time in my own life, I can hardly express how meaningful this poem is to me. Barbara dear, thanks. You've done it again.
Posted 02/28/2012 09:25 AM
dotief@comcast.net:
I love this modern sonnet. So poignant-- all the images offer the sick friend hope. The last line is genius!
Posted 02/28/2012 08:29 AM
mimi:
"little birds, little angels, a thin drizzle of sunlight" leave me saying "o" which is what I say at the end of all Barbara's poems... exquisitely crafted, poignant, perfect...
Posted 02/28/2012 07:39 AM
Katrina:
I always love Barbara's poems. Today I noticed the power of the unexpected rhyme in ' insubstantial / as dust on a mantle' and appreciate that substance is built of many cumulating chimes. Thank you.
Posted 02/28/2012 06:27 AM
Kay Sanders:
Love the "plain," the "ordinary," the "small" leading to that wonderful last line,"a strand of hope against the icy odds."
Posted 02/28/2012 05:56 AM
blinddream:
This piece was filled with wonderful expression!
Posted 02/28/2012 05:36 AM