You wouldn't like it
if you knew, I know,
but I've done it for
so many years.
Taking advantage
of your slumbering senses,
I brush the hair from your brow,
kiss your forehead, 
and whisper in your ear
the mantra that's been yours
since birth:
"I love you! I think you're wonderful!
I'm so glad that you're my son!"
From those first few nights when
I tiptoed in, holding my breath
to listen for yours,
through nights when you slept,
exhausted,
first from play, 
then from living,
then loving, until
now, as you lay here
sprawled and unguarded,
your big man body below
my little boy's face.
Tomorrow, someone else will 
kiss you in the night;
this once,
I bend and kiss you
twice.
A variation of this poem appears in A Mother of Sons (Loyola Press, 2004).
Used here with the author's permission.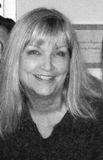 Jayne Jaudon Ferrer is the author of four books of poetry that focus on motherhood and women, one of which has remained consistently in print for more than twenty years. An award-winning copywriter and freelance journalist, Ferrer speaks frequently at women's and book events; her poetry and articles have appeared in publications ranging from Boca Raton Magazine to Christian Parenting Today. Jayne lives in Greenville, South Carolina, and believes in serial commas, real butter, and the power of prayer. Learn more about her at www.jaynejaudonferrer.com.
rcstewart3:
Ah! I can totally relate to the emotions in this poem! It is especially meaningful for me as I recall my son's wedding last May...
Posted 03/01/2012 09:53 PM
Donna Pflueger:
Jayne, the love in your poem overflowed into my heart - "tomorrow someone else will kiss you in the night" will stay with me long after finishing your poem. My very best wishes to John and Aubrey for a wonderful life together. May the blessings be!
Posted 02/29/2012 09:37 PM
ghctenmile@earthlink.net:
Thanks for sharing these heartfelt sentiments, Jayne. They warm anybody's heart but especially a mom's. Grace
Posted 02/29/2012 08:34 PM
penhart:
A beautiful tribute to your son, and to his future happiness. Best wishes to John and Aubrey---and to you as you celebrate this joy with them.
Posted 02/29/2012 05:23 PM
Janet Leahy:
Best wishes to John and Aubrey. Someday John may continue this lovely ritual with his son.
Posted 02/29/2012 04:43 PM
wendy morton:
so much joy. lovely.
Posted 02/29/2012 03:42 PM
Jo:
Beautiful poem Jayne. I do celebrate this love with you and for John and Aubrey. Thank you for sharing.
Posted 02/29/2012 03:17 PM
mimi:
o Jayne! so beautiful and of course, as the mother of a son, I relate...thank you, and congratulations to your and your son and soon-to-be-wife...
Posted 02/29/2012 12:48 PM
Cynthia Woodman Kerkham:
So tender and so true. I love how you capture the difficulty and the need of letting go subtly and powerfully in that last image. Congratulations and best wishes to them both!
Posted 02/29/2012 12:33 PM
transitions:
The ending made me cry, so touching and so true ~ I've felt the same ~ always my 'boy's ... Judy
Posted 02/29/2012 12:17 PM
marenomitchell:
Touchingly tender. Thank you for sharing with your readers, Jayne.
Posted 02/29/2012 09:44 AM
Sherry:
As a mother of sons myself, I know your sentiments exactly. Lovely poem!
Posted 02/29/2012 09:33 AM
KevinArnold:
There are certain gifts only a parent can give, and this kiss is the heart of it. Especially from mother to son.
Posted 02/29/2012 08:51 AM
peninsulapoet:
Lovely poem.
Posted 02/29/2012 08:47 AM
dotief@comcast.net:
How wonderful, Jayne! What a great send-off for your "little boy" now grown. Lovely poem with poignant and beautiful images to warm our mother-hearts!
Posted 02/29/2012 08:24 AM
Nabby Dog:
A prayer that all we parents share is that our children will be happy and at peace with themselves and with their world when they are adults. This special poem could have all our names on it because the words surely come from all of our hearts. I wish John and Aubrey much happiness in their life together. They already have the priceless gift of a loving mother / mother-in-law.
Posted 02/29/2012 08:12 AM
angierdh:
Absolutely beautiful! Wonderful way to wish them a happy wedding day!
Posted 02/29/2012 06:48 AM
Katrina:
This is too beautiful to add to.
Posted 02/29/2012 06:35 AM
Kay Sanders:
I love the image of "slumbering senses" and the way the word "lullabye" grew in meaning throughout the poem, the way you send him off with two kisses that will become one. Happiness to John and Aubrey.
Posted 02/29/2012 06:35 AM
LisaV:
as the mother of one son, Jayne, crying now. Very lovely poem. Thank you. Lisa
Posted 02/29/2012 06:25 AM
gigi:
What a beautiful tribute, Jayne. Wishing the couple a lifetime of happiness together.
Posted 02/29/2012 05:24 AM
Eiken:
Jayne, So beautiful. We cannot kiss our sons or daughters enough. Love this:))) Maire
Posted 02/29/2012 04:36 AM