This site exists for one purpose only: to help dispel the ugly myth that poetry is boring. Granted, a lot of poetry is boring, but you won't find it here. At Your Daily Poem, you'll find poetry that is touching, funny, provocative, inspiring, and surprising. It may punch you in the gut, it may bring tears to your eyes, it may make you laugh out loud, but it most assuredly will not bore you.
Poetry on YDP—by poets living and long dead, famous to completely unknown--is specially selected for accessibility and appeal. If you enjoy the site, please tell others about it; there's a "Share" button on the left to make that easy.
Thanks so much for visiting—and remember: a poem a day keeps the doldrums away!
Cross Country
by
Maryalicia Post
We don't meet as equals the horse and I
our relationship already framed by his training
was it harsh?
he accepts--
accepts my encumbering saddle upon his back
and the bit in his mouth
not kicking, not bucking, not taking flight
but enduring.
holding his instincts in check
against myriad irritations
as only the most noble can do
until my legs and hands
and the balance of my body
signal I mean no harm
then, in exchange for that small civility,
he lends me his strength
his heart and his courage
sharing the best that he is
with me
so I can be more than I am
for a little while
cross country.


This poem first appeared in the Pangolin Review.
Used here with the author's permission.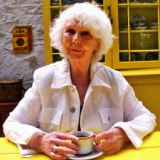 Maryalicia Post grew up in New York City and has lived most of her life in Dublin, Ireland. A journalist and travel writer, she was also a "committed" cross country horseback rider for many years. Her book, After You, chronicles the year after her husband died. Learn more about Maryalicia at www.maryaliciatravel.com.
There are no comments for this poem yet.