Welcome to Your Daily Poem!
This site exists for one purpose only: to help dispel the ugly myth that poetry is boring. Granted, a lot of poetry is boring, but you won't find it here. At Your Daily Poem, you'll find poetry that is touching, funny, provocative, inspiring, and surprising. It may punch you in the gut, it may bring tears to your eyes, it may make you laugh out loud, but it most assuredly will not bore you.
Poetry on YDP--by poets living and long dead, famous to completely unknown--is specially selected for accessibility and appeal. If you enjoy the site, please pass it along; there's a "Share" button below to make that easy. And if you'd like to add a bit of poetry to your life on a regular basis, use the "Subscribe" button at the left and we'll deliver a poem directly to your mailbox daily, every Monday, or once a month.
You're encouraged to comment on any of the poems you see featured here; a simple registration process will allow you to do that. Registering will also allow you to participate and comment at the YDP Open Mic, where you can share your own poetry and get helpful feedback. Please bear in mind that Your Daily Poem attracts readers of all ages and mindsets; comments that are crude, insensitive, or inflammatory are unwelcome and will be removed.
Thanks so much for visiting. Content here is updated daily, so come back often or, better yet, become part of the YDP family and enjoy private commentary shared only with subscribers.

Remember: a poem a day keeps the doldrums away!
Off My Game
by
Andrew Lang
'I'm off my game,' the golfer said,
And shook his locks in woe;
'My putter never lays me dead,
Howe'er I swing, howe'er I stand,
Results are still the same,
I'm in the burn
[brook]
, I'm in the sand —
'Oh, would that such mishaps might fall
That they might toe or heel the ball,
And sclaff
[hit behind the ball]
along like me!
Men hurry from me in the street,
Old partners shun me when we meet —
'Why is it that I play at all?
How once I smote upon my ball,
And bunkered it — behind me.
I mostly slice into the whins
[a type of Scottish shrub]
,
It cannot cover half my sins —
I hate the sight of all my set,
I never loved a brassey
[a brass-tipped wooden club]
yet,
My cleek
[a long iron, with little loft and a long shaft]
seems merely made to top,

My putting's wild or tame;

It's really time for me to stop —

I'm off my game.'


This poem is in the public domain.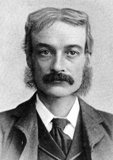 Andrew Lang (1844-1912) was a Scottish scholar and writer and attended St. Andrews University. Though no particular one of his works ever garnered great acclaim, his total body of work was impressive. He is especially revered for his children's fairy tales.
rhonasheridan:
Aye! I ken fine how he feels!
Posted 07/30/2014 03:59 AM