Welcome to Your Daily Poem!
This site exists for one purpose only: to help dispel the ugly myth that poetry is boring. Granted, a lot of poetry is boring, but you won't find it here. At Your Daily Poem, you'll find poetry that is touching, funny, provocative, inspiring, and surprising. It may punch you in the gut, it may bring tears to your eyes, it may make you laugh out loud, but it most assuredly will not bore you.
Poetry on YDP--by poets living and long dead, famous to completely unknown--is specially selected for accessibility and appeal. If you enjoy the site, please pass it along; there's a "Share" button below to make that easy. And if you'd like to add a bit of poetry to your life on a regular basis, use the "Subscribe" button at the left and we'll deliver a poem directly to your mailbox daily, every Monday, or once a month.
You're encouraged to comment on any of the poems you see featured here; a simple registration process will allow you to do that. Registering will also allow you to participate and comment at the YDP Open Mic, where you can share your own poetry and get helpful feedback. Please bear in mind that Your Daily Poem attracts readers of all ages and mindsets; comments that are crude, insensitive, or inflammatory are unwelcome and will be removed.
Thanks so much for visiting. Content here is updated daily, so come back often or, better yet, become part of the YDP family and enjoy private commentary shared only with subscribers.

Remember: a poem a day keeps the doldrums away!
An Open Letter
by
George Witte
There's something to be said
for sitting still and letting things come clear,
the way morning fog burns off the lake.

A friend writes: enlisted
in the Air Force, put on weight and saw the world
you missed. I'm content
to wait on what drops by
or swoops in for a closer view.
My doors are open wide, windows propped
so wind feels free
to flip through my mail, discarding
bills and funeral notices,
scattering pale
handwritten pages on the lawn for everyone
to read. A wedding invitation
went to buttress an oriole nest;
one man passing on the road nearby
pulled over, furtively stuffed a single
sheet in his back pocket, then drove along;
and the last I saw
my friend's letter held its own
with the wind, lightly at tree level
like the jet he flies far
and high away from here.

There's something to be said, and something else
to be kept quiet and cool:
the lake at dawn, before the fog burns off.
From The Apparitioners (Orchises Press).
Used here with the author's permission.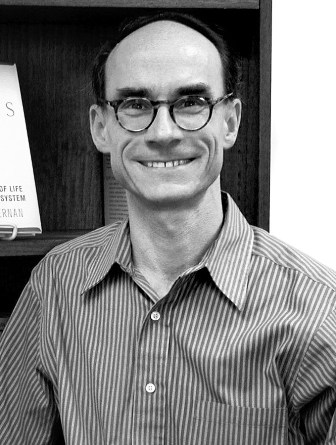 George Witte writes poems based on his upbringing in rural New Jersey—a world far from the "what's your exit?" jokes that reflect most people's knowledge of that state. While he does most of his writing on the commuter train to and from a demanding job in New York, his imagination frequently returns to the lakes, rivers, woods, and mountains where he spent most of his childhood. George has published two books of poems, The Apparitioners and Deniability, and his work has appeared in a number of leading poetry publications, including The Best American Poetry 2007. He lives with his family in Ridgewood, New Jersey.
There are no comments for this poem yet.