See details on the 2016 YDP Poetry Writing Workshop here! And download your registration form here!
This site exists for one purpose only: to help dispel the ugly myth that poetry is boring. Granted, a lot of poetry is boring, but you won't find it here. At Your Daily Poem, you'll find poetry that is touching, funny, provocative, inspiring, and surprising. It may punch you in the gut, it may bring tears to your eyes, it may make you laugh out loud, but it most assuredly will not bore you.
Poetry on YDP--by poets living and long dead, famous to completely unknown--is specially selected for accessibility and appeal. If you enjoy the site, please pass it along; there's a "Share" button below to make that easy. And if you'd like to add a bit of poetry to your life on a regular basis, use the "Subscribe" button at the left and we'll deliver a poem directly to your mailbox daily, every Monday, or once a month.
You're encouraged to comment on any of the poems you see featured here; a simple registration process will allow you to do that. Please bear in mind that Your Daily Poem attracts readers of all ages and mindsets; comments that are crude, insensitive, or inflammatory are unwelcome and will be removed.
Thanks so much for visiting. Content here is updated daily, so come back often or, better yet, become part of the YDP family and enjoy private commentary shared only with subscribers.

Remember: a poem a day keeps the doldrums away!
The Copper Beech
by
Marie Howe
Immense, entirely itself,
it wore that yard like a dress,

with limbs low enough for me to enter it
and climb the crooked ladder to where

I could lean against the trunk and practice being alone.

One day, I heard the sound before I saw it, rain fell
darkening the sidewalk.

Sitting close to the center, not very high in the branches,
I heard it hitting the high leaves, and I was happy,

watching it happen without it happening to me.


From What the Living Do (W. W. Norton & Co., 1997).
Used here with the author's permission.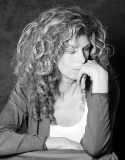 Marie Howe was born in Rochester, New York. She worked as a newspaper reporter and teacher before becoming an award-winning author and university professor. Poet Laureate of New York State from 2012 to 2014, Marie is the author of three books and lives in New York City. Learn more about her at www.mariehowe.com.
blueskies:
watching it happen without it happening to me....Delivers & embraces the voice of the child, within all of us. Thanks, Marie.
Posted 06/28/2016 06:16 AM
Linda Anger:
for me there is an interesting connection between "...I could lean against the trunk and practice being alone" and the closing "and I was happy, watching it happen without it happening to me." There is a sense of happiness in her intentional aloneness (not loneliness), learning by being the observer, hidden among the leaves. What a perfectly crafted poem!
Posted 06/28/2016 06:02 AM
Jean :D:
What delightful imagery. Makes me want to find a tree to sit under & feel it's ok to be alone.
Posted 06/28/2016 05:53 AM
Belinda Veldman:
When my kids beg to go out in the rain with an umbrella, I know that this is the appeal - "watching it happen without it happening to me". What a perfect line!
Posted 06/28/2016 02:26 AM