This site exists for one purpose only: to help dispel the ugly myth that poetry is boring. Granted, a lot of poetry is boring, but you won't find it here. At Your Daily Poem, you'll find poetry that is touching, funny, provocative, inspiring, and surprising. It may punch you in the gut, it may bring tears to your eyes, it may make you laugh out loud, but it most assuredly will not bore you.
Poetry on YDP--by poets living and long dead, famous to completely unknown--is specially selected for accessibility and appeal. If you enjoy the site, please pass it along; there's a "Share" button below to make that easy. And if you'd like to add a bit of poetry to your life on a regular basis, use the "Subscribe" button at the left and we'll deliver a poem directly to your mailbox daily, every Monday, or once a month.
You're encouraged to comment on any of the poems you see featured here; a simple registration process will allow you to do that. Please bear in mind that Your Daily Poem attracts readers of all ages and mindsets; comments that are crude, insensitive, or inflammatory are unwelcome and will be removed.
Thanks so much for visiting. Content here is updated daily, so come back often or, better yet, become part of the YDP family and enjoy private commentary shared only with subscribers.

Remember: a poem a day keeps the doldrums away!
Motorcycle Ride
by
Liz Rhodebeck
I took the part with ease –
dark glasses, helmet, jacket,
swinging my leg over the bike
and I said, "Keep going."
On a perfect summer evening,
a tinge of green coolness in the air
as youth, as all the songs
only the rumble of engine,
motion of speed and turn,
in the low, slanting sun.
© by Liz Rhodebeck.
Used with the author's permission.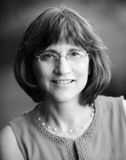 Liz Rhodebeck has loved writing since she was a child and gave poems and stories as gifts. Author of several chapbooks, she was awarded the Wisconsin Fellowship of Poets' 2014 Muse Prize. When she's not writing, Liz likes to dabble in art, and she's quite fond of bagpipe music. A ministry leader at her church where she lives in Menomonee Falls, Wisconsin, Liz is also a founding member of the faith-based group Grace River Poets. Learn more about her at http://www.waterwriter.com/.
There are no comments for this poem yet.