See details on the 2016 YDP Poetry Writing Workshop here! And download your registration form here!
This site exists for one purpose only: to help dispel the ugly myth that poetry is boring. Granted, a lot of poetry is boring, but you won't find it here. At Your Daily Poem, you'll find poetry that is touching, funny, provocative, inspiring, and surprising. It may punch you in the gut, it may bring tears to your eyes, it may make you laugh out loud, but it most assuredly will not bore you.
Poetry on YDP--by poets living and long dead, famous to completely unknown--is specially selected for accessibility and appeal. If you enjoy the site, please pass it along; there's a "Share" button below to make that easy. And if you'd like to add a bit of poetry to your life on a regular basis, use the "Subscribe" button at the left and we'll deliver a poem directly to your mailbox daily, every Monday, or once a month.
You're encouraged to comment on any of the poems you see featured here; a simple registration process will allow you to do that. Please bear in mind that Your Daily Poem attracts readers of all ages and mindsets; comments that are crude, insensitive, or inflammatory are unwelcome and will be removed.
Thanks so much for visiting. Content here is updated daily, so come back often or, better yet, become part of the YDP family and enjoy private commentary shared only with subscribers.

Remember: a poem a day keeps the doldrums away!
Galloping Days
by
Cristina M. R. Norcross
The cicadas rub their legs –
a late afternoon symphony
in the sun.
They are singing their goodbye song –
a buzzing, rattling maracas farewell.
 
The first few branches
on the eldest tree by the pond
abandon summer green
for autumn's russet glory.
 
Majesty is on the way –
a wildfire rush of color across the fields,
like fervent runners passing the baton
after each lap and leap across the line.
 
We come to the season of turning leaves
with great humility,
knowing that, like a flash of light
in the midnight sky,
its beauty is brief.
It gives birth to spartan times of growth
and the quiet, galloping days
that lead to dark skies
visiting early.
From Amnesia and Awakenings ( Local Gems Press, 2016). 
This poem first appeared in An Ariel Anthology: Transformational Poetry and Art (2015).
Used here with the author's permission.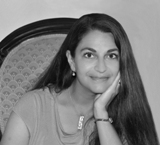 Cristina M. R. Norcross lives in Wisconsin with her husband, their two sons, and a cat who loves to sleep on a warm, humming computer. Cristina is the founding editor of the online poetry journal, Blue Heron Review, and the author of seven poetry collections. When not writing or editing, she travels to distant lands and designs jewelry from found treasures. Learn more about Cristina at www.cristinanorcross.com.
There are no comments for this poem yet.