This site exists for one purpose only: to help dispel the ugly myth that poetry is boring. Granted, a lot of poetry is boring, but you won't find it here. At Your Daily Poem, you'll find poetry that is touching, funny, provocative, inspiring, and surprising. It may punch you in the gut, it may bring tears to your eyes, it may make you laugh out loud, but it most assuredly will not bore you.
Poetry on YDP—by poets living and long dead, famous to completely unknown--is specially selected for accessibility and appeal. If you enjoy the site, please tell others about it; there's a "Share" button on the left to make that easy.
Thanks so much for visiting—and remember: a poem a day keeps the doldrums away!
The Wood Holds Memories
by
Sharmagne Leland-St. John
the wood holds memories
of the tree
the tree memories of the sapling
it used to be
the sapling memories
of pod and seed
and the loamy earth
which nurtured it 
 
the wood holds memories
of the sawyer that felled her
the miller that planed her
the carpenter
who drove nails into her
and the painter
who gave her
a coat of glossy shellac 
 
the wood holds memories
of my footsteps
upon each plank
barefoot or shod
in summer or winter
autumn or spring
memories of sunshine
warming its grain
the tickle of moss
the caressing wind
saturating rain
 
the wood holds memories


© by Sharmagne Leland-St. John.
Used with the author's permission.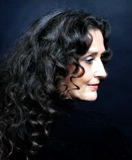 Photo by Peggy Barnett
Sharmagne Leland-St. John is a Native American poet, concert performer, lyricist, artist, and film maker. After graduating from high school, she planned to go to the University of Mexico and become a ballerina/archæologist, but life took a different turn. Retired from a career as a filmmaker and concert performer, she now does pliés while digging in her garden in Tuscany. Sharmagne's poems and short stories have appeared in numerous journals and anthologies and she is the author of four books. She also co-authored a book on film production design, Designing Movies: Portrait of a Hollywood Artist (Greenwood/Praeger 2006), and edited Cradle Songs: An Anthology of Poems on Motherhood (2012), which was a finalist for the National Independent Excellence Award and won the 2013 International Book Award Honouring Excellence in Mainstream and Independent Publishing.
There are no comments for this poem yet.