This site exists for one purpose only: to help dispel the ugly myth that poetry is boring. Granted, a lot of poetry is boring, but you won't find it here. At Your Daily Poem, you'll find poetry that is touching, funny, provocative, inspiring, and surprising. It may punch you in the gut, it may bring tears to your eyes, it may make you laugh out loud, but it most assuredly will not bore you.
Poetry on YDP—by poets living and long dead, famous to completely unknown--is specially selected for accessibility and appeal. If you enjoy the site, please tell others about it; there's a "Share" button below to make that easy.
Thanks so much for visiting—and remember: a poem a day keeps the doldrums away!
Girl Reading
by
Ginny Lowe Connors
the rain has arrived in a terrible torrent

wind roaring toward us like a train

long silver streamers of water

I doubt they shall ever recover

which carries her to China just now

must be more to her liking

Used with the author's permission.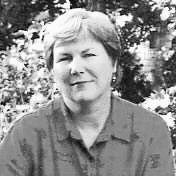 Ginny Lowe Connors is an English teacher in West Hartford, Connecticut. The author of the collections The Unparalleled Beauty of a Crooked Line (Antrim House Books, 2012) and Barbarians in the Kitchen (Antrim House Books, 2005), a chapbook,Under the Porch (Hill-Stead Museum, 2010), and editor of several poetry collections, she's won numerous awards for her poetry, including Atlanta Review's International Poetry Competition Prize and the 2010 Sunken Garden Poetry Prize. She runs a small poetry press called Grayson Books.
New comments are closed for now.
Wilda Morris:
Maybe this poem is about me when I was a girl - the poet just changed the name to protect the guilty!
Posted 10/17/2012 08:25 AM
Kathe L. Palka:
Great poem, I'm right there with Carolina! When I was in fifth grade I once read straight through lunch in the library having missed my whole class leaving to go to the cafeteria. I was so engrossed in The Last of the Mohicans.
Posted 10/17/2012 08:25 AM
vscholtz:
You have captured the joy of reading and painted a scene that draws me right into its center. Thanks.
Posted 10/17/2012 08:13 AM
erinsnana:
I love this poem! I have been on that journey to China many times...
Posted 10/17/2012 07:42 AM
69Dorcas:
Better weather in China? I love horses, too. Thanks Cute poem.
Posted 10/17/2012 06:45 AM
Eiken:
Ginny, we have this weather in Ireland at the moment, storms and I guess I need to find a book to take me somewhere warmer and more appealing. Maire
Posted 10/17/2012 06:41 AM