Welcome to Your Daily Poem!
This site exists for one purpose only: to help dispel the ugly myth that poetry is boring. Granted, a lot of poetry is boring, but you won't find it here. At Your Daily Poem, you'll find poetry that is touching, funny, provocative, inspiring, and surprising. It may punch you in the gut, it may bring tears to your eyes, it may make you laugh out loud, but it most assuredly will not bore you.
Poetry on YDP--by poets living and long dead, famous to completely unknown--is specially selected for accessibility and appeal. If you enjoy the site, please pass it along; there's a "Share" button below to make that easy. And if you'd like to add a bit of poetry to your life on a regular basis, use the "Subscribe" button at the left and we'll deliver a poem directly to your mailbox daily, every Monday, or once a month.
You're encouraged to comment on any of the poems you see featured here; a simple registration process will allow you to do that. Registering will also allow you to participate and comment at the YDP Open Mic, where you can share your own poetry and get helpful feedback. Please bear in mind that Your Daily Poem attracts readers of all ages and mindsets; comments that are crude, insensitive, or inflammatory are unwelcome and will be removed.
Thanks so much for visiting. Content here is updated daily, so come back often or, better yet, become part of the YDP family and enjoy private commentary shared only with subscribers.

Remember: a poem a day keeps the doldrums away!
The Pessimist
by
Benjamin Franklin King
Nothing to do but work,
Nothing to eat but food,
Nothing to wear but clothes
To keep one from going nude.
Nothing to breathe but air
Quick as a flash 't is gone;
Nowhere to fall but off,
Nowhere to stand but on.
Nothing to comb but hair,
Nowhere to sleep but in bed,
Nothing to weep but tears,
Nothing to bury but dead.
Nothing to sing but songs,
Ah, well, alas! alack!
Nowhere to go but out,
Nowhere to come but back.
Nothing to see but sights,
Nothing to quench but thirst,
Nothing to have but what we've got;
Thus thro' life we are cursed.
Nothing to strike but a gait;
Everything moves that goes.
Nothing at all but common sense
Can ever withstand these woes.
This poem is in the public domain.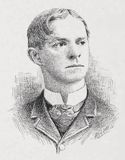 Benjamin Franklin King (1857 - 1894) was born in St. Joseph, Michigan, and first garnered fame as a sort of American Mozart. A child prodigy who delighted audiences with his prowess at the piano, Benjamin eventually applied his talent for humor and satire to writing poetry. His work was frequently published in leading newspapers and journals of his day, and after his death, which occurred while he was on a reading tour, the Chicago Press Club put together a collection of his poems and had it published. The book was a bestseller for many years.
erinsnana:
I love this!!
Posted 08/27/2014 07:30 AM
Ross Kightly:
A poet unknown to me who has made a grey 6 a.m. so much brighter! (Nothing to do but smile. What a TERMINAL DRAG!!)
Posted 08/26/2014 11:51 PM