Poetry Cam
Visible proof that poetry can be fun--and beautiful, and charming, and sexy, and compelling, and a whole other list of adjectives!
Here are poets, poetry, poetic places, and poetic things caught on camera. If you have something you think we should share, send it to info@yourdailypoem.com!
---
Video
Students recite poems by YDP poet Marjorie Maddox Hafer:
Damaris shares "A Charm of Butterflies" from A Crossing of Zebras: Animal Packs in Poetry
Maverick shares "Pitchout" from Rules of the Game

YDPCowboy Poet Mike Moutoux reflects on ghosts of the Old West:
Spirits Still Remain
And on a favorite horse:
Holly
An interview with poet Billy Collins.
Used with permission. Produced by Big Think and recorded at the 2007 Aspen Ideas Festival.


The following are ads used in a campaign for Union Bank of Switzerland, developed by Vincenzo Travaglione and produced by Neil French.
Sir John Gielgud reciting "Ulysses" by Alfred, Lord Tennyson

Paul Scofield reciting "Psalm of Life" by Henry Wadsworth Longfellow

Ben Kingsley reciting "Ozymandius" by Percy Bysshe Shelley

Harvey Keitel reciting "The Cloths of Heaven" by William Butler Yeats

Alan Bates reciting "The Road Not Taken" by Robert Frost

Maggie Smith reciting "Bag of Tools" by R. L. Sharpe

Max Ehrrman reciting "Desiderata" by Yeng Ruocheng
---
Pictures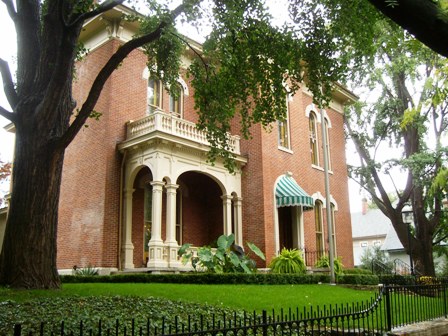 The home of John Whitcomb Riley in Indianapolis, IN. He lived here for the last 23 years of his life,
as a permanent houseguest of Charles and Magdalena Holstein. The house is now a museum,
with Riley's second-floor bedroom completely intact as he left it. A personally guided tour
is offered for a nominal fee, and proceeds go to the Riley Children's Foundation.