Welcome to Your Daily Poem!
This site exists for one purpose only: to help dispel the ugly myth that poetry is boring. Granted, a lot of poetry is boring, but you won't find it here. At Your Daily Poem, you'll find poetry that is touching, funny, provocative, inspiring, and surprising. It may punch you in the gut, it may bring tears to your eyes, it may make you laugh out loud, but it most assuredly will not bore you.
Poetry on YDP--by poets living and long dead, famous to completely unknown--is specially selected for accessibility and appeal. If you enjoy the site, please pass it along; there's a "Share" button below to make that easy. And if you'd like to add a bit of poetry to your life on a regular basis, use the "Subscribe" button at the left and we'll deliver a poem directly to your mailbox daily, every Monday, or once a month.
You're encouraged to comment on any of the poems you see featured here; a simple registration process will allow you to do that. Registering will also allow you to participate and comment at the YDP Open Mic, where you can share your own poetry and get helpful feedback. Please bear in mind that Your Daily Poem attracts readers of all ages and mindsets; comments that are crude, insensitive, or inflammatory are unwelcome and will be removed.
Thanks so much for visiting. Content here is updated daily, so come back often or, better yet, become part of the YDP family and enjoy private commentary shared only with subscribers.

Remember: a poem a day keeps the doldrums away!
Peanut Butter Cookies
by
Edwin Romond
My mother made them from memory
giving me my own memory of winter
in our kitchen, the salty aroma
of peanut butter cookies from the oven,
and the torture of waiting for them to cool
on the window sill overlooking Albert St.
in the Eisenhower 50s of my childhood.
I remember her mixing brown sugar,
butter, and spoons of Skippy. She never
checked a cookbook and they tasted
like no other cookies tasted. "I just know,"
she'd say if I asked her how she did this
then she'd wrap them in foil and sing
along with Perry Como on our radio.
They were as special as she was, a quiet
woman who took small joys in life
around the house. I know she knew
how much those cookies meant to me
for years later she apologized, as if
it were her fault, when a stroke at 80
erased the recipe from her mind.
So she followed a Betty Crocker recipe
and the cookies were tasty and fine
but lacked the magic of what she had lost.
I swore they were as good as the ones
she used to make but I was hiding my hunger
for her own peanut butter cookies, hiding
my fear of the first taste of good-bye.
This poem first appeared in Lips, Vol. 24/25
Used here with the author's permission.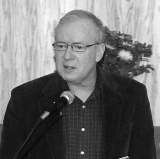 Edwin Romond is a poet, playwright, composer, and educator. Now retired, he taught English for 32 years in Wisconsin and New Jersey. Edwin's award-winning work has appeared in numerous literary journals, college text books and anthologies, and has been featured on National Public Radio. He maintains an active schedule of readings and presentations (check www.edwinromond.com to see if he's appearing anywhere in your area) and his most recent book is Dream Teaching (Grayson Books). A native of Woodbridge, NJ, Edwin now lives in Wind Gap, Pennsylvania, with his wife and son.
There are no comments for this poem yet.