This site exists for one purpose only: to help dispel the ugly myth that poetry is boring. Granted, a lot of poetry is boring, but you won't find it here. At Your Daily Poem, you'll find poetry that is touching, funny, provocative, inspiring, and surprising. It may punch you in the gut, it may bring tears to your eyes, it may make you laugh out loud, but it most assuredly will not bore you.
Poetry on YDP—by poets living and long dead, famous to completely unknown--is specially selected for accessibility and appeal. If you enjoy the site, please tell others about it; there's a "Share" button on the left to make that easy.
Thanks so much for visiting—and remember: a poem a day keeps the doldrums away!
Blue Highways
by
Judy Shimek Drechsler
Spider lines across the map,
freedom from routine and
chores of home.
Meandering down
the back roads,
no destination in mind

Wind in my face, suntanned arm
out the window.
One hand on the wheel.
Each bend in the road
brings small slices of life

A farmer tills the field,
sheets flap in the wind.
A woman reaches
for more clothespins

She glances up
I pass through with a wave
and a nod
to strangers I will never
see again.


From Falling Into One (Publishing-Partners, 2017).
Used here with the author's permission.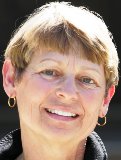 Judy Shimek Drechsler spent most of her teaching career in Anchorage, Alaska, where she taught literacy courses for the University of Alaska -Anchorage and was a full time primary teacher in the Anchorage School District. She retired to Port Townsend, Washington in 2000. Since then, Judy has waded deeply into poetry, has had work published in a variety of venues, and has published one book.
CamilleBalla:
Very relaxing to ride along with you as you notice and welcome to your world the people along the way. ?Spider lines across the map? drew me in. This is inspiring to get away from to-do?s for a while and notice people as they too live in the present moment in our world.
Posted 06/19/2019 12:41 PM
Jean Colonomos:
This poem inspires me to meander.
Posted 06/19/2019 10:08 AM