Welcome to Your Daily Poem!
This site exists for one purpose only: to help dispel the ugly myth that poetry is boring. Granted, a lot of poetry is boring, but you won't find it here. At Your Daily Poem, you'll find poetry that is touching, funny, provocative, inspiring, and surprising. It may punch you in the gut, it may bring tears to your eyes, it may make you laugh out loud, but it most assuredly will not bore you.
Poetry on YDP--by poets living and long dead, famous to completely unknown--is specially selected for accessibility and appeal. If you enjoy the site, please pass it along; there's a "Share" button below to make that easy. And if you'd like to add a bit of poetry to your life on a regular basis, use the "Subscribe" button at the left and we'll deliver a poem directly to your mailbox daily, every Monday, or once a month.
You're encouraged to comment on any of the poems you see featured here; a simple registration process will allow you to do that. Registering will also allow you to participate and comment at the YDP Open Mic, where you can share your own poetry and get helpful feedback. Please bear in mind that Your Daily Poem attracts readers of all ages and mindsets; comments that are crude, insensitive, or inflammatory are unwelcome and will be removed.
Thanks so much for visiting. Content here is updated daily, so come back often or, better yet, become part of the YDP family and enjoy private commentary shared only with subscribers.

Remember: a poem a day keeps the doldrums away!
The Gist of the Matter
by
Glenda Barrett
Apple peelings
red and moistened
slide from the knife
onto my calico apron
in a large, curly heap.
I listen to the chatter of
my family around the table.
Over and over,
I slice pieces from my apple,
and eat them from the knife
like my father before me,
until nothing is left but the core.
That's where I like to begin
my story.

From When the Sap Rises (Finishing Line Press, 2008)
This poem previously apeared in Hard Row to Hoe. 
Used here with the author's permission.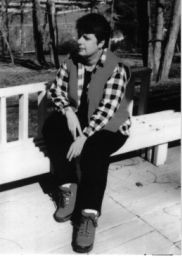 Glenda Barrett, a native of Hiawassee, Georgia, is an artist, poet and writer. Her writing has appeared in Woman's World, Chicken Soup for the Soul, Farm & Ranch Living, Rural Heritage, Kaleidoscope, Journal of Kentucky Studies, Smoky Mountain Living, Georgia Magazine, and many other publications.
karenpaulholmes:
Once again, Glenda nails it! Very nice and precise poem.
Posted 11/22/2014 01:27 PM
Barry:
Simple and beautifu
Posted 11/22/2014 12:56 PM
peninsulapoet:
Good poem.
Posted 11/22/2014 12:51 PM
Wilda Morris:
I like where this poem goes, and how it got there.
Posted 11/22/2014 11:49 AM
anne.lehman2929@att.net:
This poem is a gentle, lovely remembrance.
Posted 11/22/2014 10:18 AM