This site exists for one purpose only: to help dispel the ugly myth that poetry is boring. Granted, a lot of poetry is boring, but you won't find it here. At Your Daily Poem, you'll find poetry that is touching, funny, provocative, inspiring, and surprising. It may punch you in the gut, it may bring tears to your eyes, it may make you laugh out loud, but it most assuredly will not bore you.
Poetry on YDP--by poets living and long dead, famous to completely unknown--is specially selected for accessibility and appeal. If you enjoy the site, please pass it along; there's a "Share" button below to make that easy. And if you'd like to add a bit of poetry to your life on a regular basis, use the "Subscribe" button at the left and we'll deliver a poem directly to your mailbox daily, every Monday, or once a month.
You're encouraged to comment on any of the poems you see featured here; a simple registration process will allow you to do that. Please bear in mind that Your Daily Poem attracts readers of all ages and mindsets; comments that are crude, insensitive, or inflammatory are unwelcome and will be removed.
Thanks so much for visiting. Content here is updated daily, so come back often or, better yet, become part of the YDP family and enjoy private commentary shared only with subscribers.

Remember: a poem a day keeps the doldrums away!
First Warm Breeze
by
Jana Kalina
first warm breeze,
confetti
flutters in the garden

first come the snowdrops,
followed by daffodils.

A warm breeze arrives
on the coattails of tulips
and
pink cherry blossoms
release spring

but, winter's final exhalation
unleashes one last storm
and white confetti swirls
around the lovers

sitting,
hearts in flutters.
Experiencing life,
for the first time
in the garden
© by Jana Kalina.
Used here with the author's permission.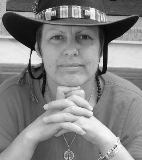 Jana Kalina lives in Victoria, on Vancouver Island. This Bohemian-born poet — with romantic heart and idealistic world view — enjoys island life with her Caribbean-Quebecer husband, especially skinny dipping in summer and harvesting wild mushrooms in the fall.
There are no comments for this poem yet.