Welcome to Your Daily Poem!
This site exists for one purpose only: to help dispel the ugly myth that poetry is boring. Granted, a lot of poetry is boring, but you won't find it here. At Your Daily Poem, you'll find poetry that is touching, funny, provocative, inspiring, and surprising. It may punch you in the gut, it may bring tears to your eyes, it may make you laugh out loud, but it most assuredly will not bore you.
Poetry on YDP--by poets living and long dead, famous to completely unknown--is specially selected for accessibility and appeal. If you enjoy the site, please pass it along; there's a "Share" button below to make that easy. And if you'd like to add a bit of poetry to your life on a regular basis, use the "Subscribe" button at the left and we'll deliver a poem directly to your mailbox daily, every Monday, or once a month.
You're encouraged to comment on any of the poems you see featured here; a simple registration process will allow you to do that. Registering will also allow you to participate and comment at the YDP Open Mic, where you can share your own poetry and get helpful feedback. Please bear in mind that Your Daily Poem attracts readers of all ages and mindsets; comments that are crude, insensitive, or inflammatory are unwelcome and will be removed.
Thanks so much for visiting. Content here is updated daily, so come back often or, better yet, become part of the YDP family and enjoy private commentary shared only with subscribers.

Remember: a poem a day keeps the doldrums away!
What I Know About Shine
by
Dana Wildsmith
As clear as water from my well, but not
as clear as alcohol- as strange as that
may sound- for this is living liquid: a shot
of aqua vitae with its specks and motes
of vegetative matter and a dash
of death potential (as always is the case
with life) or at the least a gamble at
a loss of sight or sense or steady use
of legs and hands, my hands that took the jar
as if no harm could come to me- to you,
but not to me- because I would be scared
of even water from my well if too
much thought preceded drinking, and I
have found this also is the case with life.
© 2009 by Dana Wildsmith
Used with the author's permission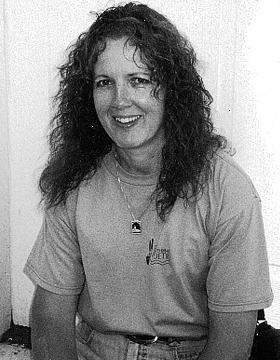 Dana Wildsmith is the author of five collections of poetry, one of which (One Good Hand) was a nominee for Southeastern Booksellers Association Poetry Book of the Year. Dana is a popular workshop teacher and has done residencies and fellowships as far away as Alaska. She lives on a century-old family farm outside Atlanta and, when not writing, is an ESL instructor for Lanier Technical College.  Dana's poetry and essays--which frequently focus on her dogs, her family, and her life on the farm--have been featured in numerous journals, magazines, and anthologies, including the highly acclaimed Listen Here: Women Writing in Appalachia. Dana's most recent book is Christmas in Bethlehem. Learn more about her at http://www.danawildsmith.com/blog and www.danawildsmith.com.
There are no comments for this poem yet.