This site exists for one purpose only: to help dispel the ugly myth that poetry is boring. Granted, a lot of poetry is boring, but you won't find it here. At Your Daily Poem, you'll find poetry that is touching, funny, provocative, inspiring, and surprising. It may punch you in the gut, it may bring tears to your eyes, it may make you laugh out loud, but it most assuredly will not bore you.
Poetry on YDP—by poets living and long dead, famous to completely unknown--is specially selected for accessibility and appeal. If you enjoy the site, please tell others about it; there's a "Share" button on the left to make that easy.
Thanks so much for visiting—and remember: a poem a day keeps the doldrums away!
A Summery
by
Douglas Florian
June: We seeded.
July: We weeded.
August: We eated.


From Summersaults (Greenwillow Books, 2002).
Used here with permission.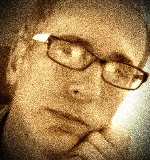 Douglas Florian is an artist and poet. He has written and illustrated more than 60 children's books, including beast feast, winner of the Lee Bennett Hopkins Poetry Award; insectlopedia, a national bestseller featured on National Public Radio and The Today Show; Dinothesaurus, which was a Bank Street Best Book of the Year; and Poetrees, which School Library Journal called an "exquisite collection." Douglas, who lives in New York City, has recited his poetry at Carnegie Hall, The White House, and The Museum of Modern Art in New York. Learn more about him at www.douglasflorian.com.
DavidTookey:
Love it!
Posted 08/25/2019 11:53 AM
barbsteff:
Ha ha!
Posted 08/25/2019 11:48 AM
cork:
September: We readed!
Posted 08/25/2019 09:21 AM
Jean Colonomos:
Love the succinct.
Posted 08/25/2019 08:49 AM
SaraS:
Thanks for the smile, this is terrific!
Posted 08/25/2019 08:05 AM
KevinArnold:
Great fun, starting with the title.
Posted 08/25/2019 07:30 AM
Larry Schug:
Indeed!
Posted 08/25/2019 06:55 AM