See details on the 2016 YDP Poetry Writing Workshop here! And download your registration form here!
This site exists for one purpose only: to help dispel the ugly myth that poetry is boring. Granted, a lot of poetry is boring, but you won't find it here. At Your Daily Poem, you'll find poetry that is touching, funny, provocative, inspiring, and surprising. It may punch you in the gut, it may bring tears to your eyes, it may make you laugh out loud, but it most assuredly will not bore you.
Poetry on YDP--by poets living and long dead, famous to completely unknown--is specially selected for accessibility and appeal. If you enjoy the site, please pass it along; there's a "Share" button below to make that easy. And if you'd like to add a bit of poetry to your life on a regular basis, use the "Subscribe" button at the left and we'll deliver a poem directly to your mailbox daily, every Monday, or once a month.
You're encouraged to comment on any of the poems you see featured here; a simple registration process will allow you to do that. Please bear in mind that Your Daily Poem attracts readers of all ages and mindsets; comments that are crude, insensitive, or inflammatory are unwelcome and will be removed.
Thanks so much for visiting. Content here is updated daily, so come back often or, better yet, become part of the YDP family and enjoy private commentary shared only with subscribers.

Remember: a poem a day keeps the doldrums away!
Meteor Shower in Rural New Hampshire
by
Barbara Quick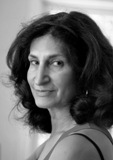 Barbara Quick is a novelist, journalist and poet. The author of seven books, her newly assembled poetry collection, Fanny Mendelssohn Catches a Glimpse of the Future, was a semi-finalist for this year's Washington Prize and her novel, Vivaldi's Virgins (HarperCollins, 2007), has been translated into 15 languages. Barbara lives on a small farm in Sonoma County, California with her husband, a vigneron and violist for the San Francisco Symphony. An avid dancer, runner and student of yoga, Barbara divides her time between writing and tending to her edible gardens. Learn more about her at www.barbaraquick.com.
There are no comments for this poem yet.