This site exists for one purpose only: to help dispel the ugly myth that poetry is boring. Granted, a lot of poetry is boring, but you won't find it here. At Your Daily Poem, you'll find poetry that is touching, funny, provocative, inspiring, and surprising. It may punch you in the gut, it may bring tears to your eyes, it may make you laugh out loud, but it most assuredly will not bore you.
Poetry on YDP--by poets living and long dead, famous to completely unknown--is specially selected for accessibility and appeal. If you enjoy the site, please pass it along; there's a "Share" button below to make that easy. And if you'd like to add a bit of poetry to your life on a regular basis, use the "Subscribe" button at the left and we'll deliver a poem directly to your mailbox daily, every Monday, or once a month.
You're encouraged to comment on any of the poems you see featured here; a simple registration process will allow you to do that. Please bear in mind that Your Daily Poem attracts readers of all ages and mindsets; comments that are crude, insensitive, or inflammatory are unwelcome and will be removed.
Thanks so much for visiting. Content here is updated daily, so come back often or, better yet, become part of the YDP family and enjoy private commentary shared only with subscribers.

Remember: a poem a day keeps the doldrums away!
Celebration
by
Mary Beth Watt
When you get to where you are going,
Let that feeling sink into your marrow
Then, with joy in your soul
Look down the long hallway of your life.
Adorned with sparkles and draped with party streamers.
© 2010 Mary Beth Watt.
Used with the author's permission.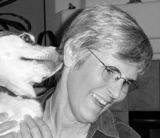 Mary Beth Watt recently moved to Ashland, Oregon, after many years of living in the heart of Silicon Valley. She says, "I have written all of my life, everything from technical documentation to an as yet unpublished novel. But it is poetry I have always come back to,"—reading, speaking, and writing it." Mary Beth starts most mornings with a conference call of between two and ten participants; they first read an inspirational poem, then share their reactions—which often includes poems they've written in response. Learn more about Mary Beth at http://poetryofliving.blogspot.com/.
mimi:
inspirational and bright!
Posted 07/31/2015 07:30 AM
KevinArnold:
Fun.
Posted 07/31/2015 03:23 AM