This site exists for one purpose only: to help dispel the ugly myth that poetry is boring. Granted, a lot of poetry is boring, but you won't find it here. At Your Daily Poem, you'll find poetry that is touching, funny, provocative, inspiring, and surprising. It may punch you in the gut, it may bring tears to your eyes, it may make you laugh out loud, but it most assuredly will not bore you.
Poetry on YDP--by poets living and long dead, famous to completely unknown--is specially selected for accessibility and appeal. If you enjoy the site, please pass it along; there's a "Share" button below to make that easy. And if you'd like to add a bit of poetry to your life on a regular basis, use the "Subscribe" button at the left and we'll deliver a poem directly to your mailbox daily, every Monday, or once a month.
You're encouraged to comment on any of the poems you see featured here; a simple registration process will allow you to do that. Please bear in mind that Your Daily Poem attracts readers of all ages and mindsets; comments that are crude, insensitive, or inflammatory are unwelcome and will be removed.
Thanks so much for visiting. Content here is updated daily, so come back often or, better yet, become part of the YDP family and enjoy private commentary shared only with subscribers.

Remember: a poem a day keeps the doldrums away!
Groupie
by
Jane Williams
today I fall in love
with the woman at the bus stop
I fall in love with her sky blue ear plugs
and candy pink back pack
I fall in love with her half closed eyes
suggesting a foot in heaven's door
I fall in love with the way she sways
like a professional mourner
or an amateur drunk
dangerously close to the edge
of being discovered but mostly
I fall in love with the way she sings
too loudly off key
not knowing half the words not caring
I wait for the bus I want to be there
join in
when the windows shatter their applause
From Days Like These: New and Selected Poems 1998 – 2013 (Interactive Press, 2013),
Used here with the author's permission.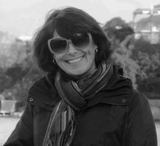 Jane Williams is an Australian writer based in Tasmania. Author of five books and a chapbook, she is passionate about travel and enjoys collaborating with other writers and artists. Learn more about her at www.janewilliams.wordpress.com.
There are no comments for this poem yet.