Consider giving up ings
vowels complex sentences
abandoning adjectives
nothing left to parse
spin a weave of
silent sound bytes
paperless symbols
unrestrained by punctuation 
string word remnants together
until naked towers of
abbreviations slang and symbols
strip bare the raw meat of language
once the essence
of human experience
spit out the masticated pulp 
decorate with a smiley face
not all that much to lol about


This poem first appeared in Linnet's Wings (November 2010).
Used here with the author's permission.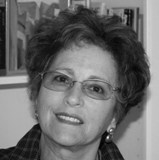 Anita S. Pulier is a graduate of New York University and New York Law School. After many years of practicing law in New York and New Jersey, she has served for the past several years as a U.S. representative for the Women's International League for Peace and Freedom at the United Nations. Anita's poems have been published both online and in print; her chapbook, Perfect Diet, was recently released by Finishing Line Press. Anita lives between New York City and Los Angeles; learn more about her at http://www.psymeet.com/anitaspulier/.
erinsnana:
I love your poem! I do not text--nor will I, for it diminishes language.
Posted 10/06/2012 10:19 PM
dotief@comcast.net:
I have always been enamored of the subtleties of language and how the omission of a mere comma can totally change the meaning of a sentence. So much is lost in the modern media. It is so easy to misinterpret, and this poem understands that. And I am not laughing either.
Posted 03/04/2012 08:32 AM