Dear March — Come in —
How glad I am —
I hoped for you before —

Put down your Hat —
You must have walked —
How out of Breath you are —
Dear March, Come right up the stairs with me —
I have so much to tell —

I got your Letter, and the Birds —
The Maples never knew that you were coming — till I called
I declare — how Red their Faces grew —
But March, forgive me — and
All those Hills you left for me to Hue —
There was no Purple suitable —
You took it all with you —

Who knocks? That April.
Lock the Door —
I will not be pursued —
He stayed away a Year to call
When I am occupied —
But trifles look so trivial
As soon as you have come

That Blame is just as dear as Praise
And Praise as mere as Blame —

This poem is in the public domain.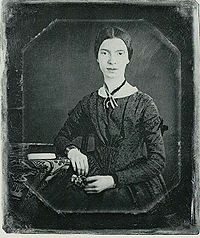 Emily Dickinson (1830 – 1886) is considered a major American poet, though she was not accorded this honor until well after her death, when her younger sister discovered and began to share the enormous body of work that Emily left behind. A recluse who almost always wore white, Emily was born to a prominent Massachusetts family and spent the bulk of her life inside her home in Amherst. Only seven of her poems were published during her lifetime, and virtually none were published as originally written until the mid 1950s. (Emily's odd punctuation, capitalization, and formatting did not meet with standard publishing  "approval" for earlier editions.)  There is a whimsical nature to many of her poems, although the subject of death was the most frequent recurring theme.
69Dorcas:
Marvelous. Praise as slight as blame? how ponderous is that? To slide from one month to another comfortably, I imagine.
Posted 03/03/2012 06:36 PM
LisaV:
Ah Emily...she knows.
Posted 03/03/2012 09:41 AM
KevinArnold:
Ah yes, March as a gentleman caller . . . I picture myself as April locked outside the door; March makes me jealous. Oedipus would understand as we are all the progeny of Emily Dickinson's pristine precision and Walt Whitman's wild exuberance. What an inheritance we share!
Posted 03/03/2012 09:11 AM